Historic Elections for the Philippines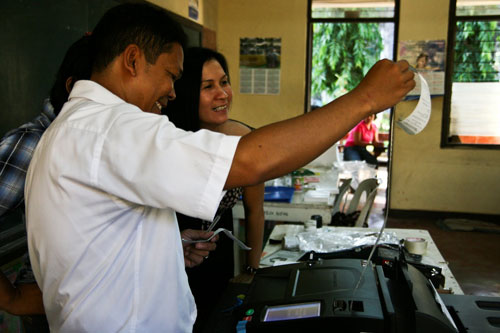 The Philippines recently completed a historic presidential election with Benigno "Noynoy" Aquino, son of former President Cory Aquino, winning the first-ever national election to use computerized polling nationwide. Despite the violence leadingup to the election and on election day, the elections went well by national standards, and ballot counting and the determination of winners took place with record speed.
In fact, the speed of results that emerged in the nation's first automated election stunned the Philippines. A large number of races were decided extremely quickly—the vast majority of electoral positions were decided within days, while in the past, it was literally weeks before results of manual counting of handwritten ballots would produce results. On Tuesday, May 18, the Philippine Commission on Elections (COMELEC) proclaimed the last three (of 12) nationwide winning candidates for Senate, just eight days after polls closed, an astonishing contrast to previous elections.
Leading up to the elections, The Asia Foundation worked with local partners in the Philippines to conduct a series of diagnostic activities that assess election violence and enhance existing formal and informal mechanisms to manage election-related violence. On election day, Asia Foundation staff and partners were scattered far and wide to help observe the elections process. Through almost hourly updates from the Foundation's Representative, Dr. Steven Rood and his team, our website served as a hub of on-the-ground information on the elections as they were happening.
Now the hard work begins for the Philippines' newly elected leaders, and The Asia Foundation's staff will continue to keep our audiences informed on future political developments in the Philippines.