A Conversation with Times of India Diplomatic Editor Indrani Bagchi
July 21, 2010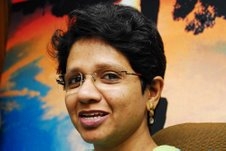 In Asia recently spoke with Indian journalist Indrani Bagchi, diplomatic editor for The Times of India, the country's largest English-language daily, on her way back from Washington, D.C., where she finished conducting research on U.S.-China relations and their impact on India, as an Asia Foundation Chang-Lin Tien Visiting Fellow. Bagchi speaks on rising print newspaper readership in India, President Obama's upcoming visit to India, and more.
Q: What domestic and international issues are the Indian media covering well?
India's domestic issues still remain the biggest thing that we cover. There is so much to cover within India on any given day in terms of crises, developments, politics. The quantum of stories from the domestic sector is just enormous. But for those of us who cover foreign policy, it's always a fight for space with the domestic editors. At night, when everybody's lobbying for last minute space, it's a battle.
Q: Is this a reflection of a decrease in foreign coverage globally?
Possibly, but in India it also has to do with our newspaper's revenue model. We are completely advertisement-led. We charge only 2 rupees for our paper, which is about 4 cents, but it takes something like 12 to 15 rupees to produce. The paper is 60 pages, in all color, so we have to make up for this somehow. Our ad to editorial ratio is 40/60:  40 percent advertising and 60 percent editorial. This means we are also fighting with the ad department all the time. It's a daily battle, and it happens everywhere.
Q: You say that print newspaper readership is on the rise in India – a contrast to newspapers in the U.S. and elsewhere struggling to find the right business model to survive.
Yes, that's true. Internet penetration is still not that high in India. Because of this, the print newspaper remains a huge source of information. It also remains a key source of advertising for very interesting sectors. The education sector is one of the biggest advertisers in India's print media.
Q: But is this concentrated mostly in the urban areas where literacy rates are higher?
There has actually been a huge increase in readership in smaller towns too. We publish 11 different editions that we distribute throughout India. Then we have what we call the Dak editions; it's an old British term, but it's an Indian word that means "post." And it means that you have an earlier edition for outlying areas that take longer to reach. The last edition off the press is what we call the capital edition, which is distributed in the city center. For every 60 kilometers, we have a different edition that goes out slightly earlier or later, depending on the distance from Delhi.
But the increase in readership is also because people from the countryside are coming out of illiteracy every day. As people get out of illiteracy, the first thing that they do is read newspapers.
Our official circulation is 5.5 million. But in India, circulation and readership are two very different numbers, because every family has one paper, so the readership is actually 3.5 readers to one paper, because families are large and they all share one copy. So the real circulation is almost 10 million.
Q: How well do you think that the international media are covering India?
They need to get out of Delhi. Delhi is not India. Delhi is Washington, D.C., which is where the government lives, it's where special interests live – that's not India. It's where you sit when you're doing foreign policy, because that cannot happen anywhere else, but not when you're covering local politics. The soul of India is elsewhere – in the villages.
Many international outlets have been forced to make so many staff cuts, that now one reporter is charged with covering not just India, but Pakistan, Afghanistan, Sri Lanka, Bangladesh, Nepal. It's physically impossible to accomplish nuanced coverage like this.
Q: How much of an editing hand does The Times of India usually have in op-eds, such as the one that Senator John Kerry wrote in advance of the inaugural U.S.-India strategic dialogue in June?
If we have to do too much editing, we send the piece back to the writer, or an aide in this case. Because normally, an op-ed by somebody like Kerry is already edited closely, and there's not much we can touch. As a senator, there's clearly something he wants to accomplish through this, and that's why he's writing it. As long as it sticks to our word limit, we don't touch it.
Q: President Obama plans to visit India in the fall. What will that be like?
It should be a very big deal. Because he will be the first U.S. president in a long, long time who will be visiting India in his first term. Although India is one of the few countries that looked at George Bush as a "friend," even George Bush visited in his second term. He wasn't a first-term visitor, and neither was Bill Clinton.
I think Obama wants to make a personal statement of his own commitment to the India-U.S. relationship, and we've had a little bit of bumpy beginning with this administration. However, President Obama himself is considered a man of very, very compelling charisma in India. There's a great deal of fascination with him and I'm sure that would play out during the visit. When President Clinton visited, it was extraordinary. I haven't seen that kind of frenzy in my coverage of state visits.
I heard that Obama would like to time his visit so he can bring his family to India as well. Those logistics are going to be hard. Imagine if all of them want to go to the Taj Mahal? That was the problem with President Clinton's visit. He wanted to ride on an elephant up to the Jaigarh Fort in Jaipur, and his people said, no way, we cannot risk that. And, having the president riding a donkey would be really ridiculous – especially in the Indian context. So, there will not likely be any elephant rides during Obama's visit. But I do think that half of the foreign policy and media establishment is now very aware of when American schools are on break as they try to match diplomatic calendars with school calendars!
About our blog, InAsia
InAsia
is a bi-weekly in-depth, in-country resource for readers who want to stay abreast of significant events and issues shaping Asia's development, hosted by
The Asia Foundation
. Drawing on the first-hand insight of renowned experts,
InAsia
delivers concentrated analysis on issues affecting each region of Asia, as well as Foundation-produced reports and polls.
InAsia
is posted and distributed every other Wednesday evening, Pacific Time. If you have any questions, please send an email to
[email protected]
.
Contact
For questions about
InAsia
, or for our cross-post and re-use policy, please send an email to
[email protected]
.
The Asia Foundation
465 California St., 9th Floor
San Francisco, CA 94104
Mailing Address:
PO Box 193223
San Francisco, CA 94119-3223
Change Starts Here Campaign Impact
Thank you for powering The Asia Foundation's mission to improve lives and expand opportunities.