New Paper Examines Practice of Political Economy Approaches to Economic Reform
September 22, 2010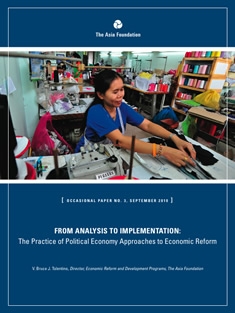 In a just-released paper from The Asia Foundation, chief economist and Economic Reform and Development Director Bruce Tolentino examines how reforms are shaped by the context of political decision-making, and how politics affect economic choice. This latest paper, the third in the Foundation's new "Occasional Paper" series, sketches out the operational features of emerging political economy-based approaches to sectoral economic policy reform.
The paper traces some of the literature on the political economy analysis of reforms, outlines the international development community's increasing recognition of the political economy aspects of economic governance, and identifies elements of operational reform approaches that move beyond disengaged political economy analysis toward on-the-ground implementation of political strategies in policy reform processes. Download the paper.
About our blog, InAsia
InAsia
is a weekly in-depth, in-country resource for readers who want to stay abreast of significant events and issues shaping Asia's development, hosted by
The Asia Foundation
. Drawing on the first-hand insight of over 70 renowned experts in over 20 countries,
InAsia
delivers concentrated analysis on issues affecting each region of Asia, as well as Foundation-produced reports and polls.
InAsia
is posted and distributed every other Wednesday evening, Pacific Time. If you have any questions, please send an email to
editor.inasia@asiafoundation.org
.
Contact
For questions about
InAsia
, or for our cross-post and re-use policy, please send an email to
editor.inasia@asiafoundation.org
.
The Asia Foundation
465 California St., 9th Floor
San Francisco, CA 94104
Mailing Address:
PO Box 193223
San Francisco, CA 94119-3223