[SLIDESHOW] On the Streets of a Divided Thailand
October 13, 2010
Violent conflict gripped central Bangkok in April and May 2010, leaving 91 dead, and deep political scars. Now, months later, life on the streets appears on the surface to be back to normal, but profound concerns remain. Although the unrest was widely covered by international media, little is truly known about Thai perceptions of the crisis. In this slideshow, Thais from Bangkok's diverse communities speak about their greatest concerns and hopes for the country's future. The Asia Foundation is conducting extensive face-to-face interviews – the first since the unrest – for a nationwide Thai public opinion poll, which will be available in early 2011.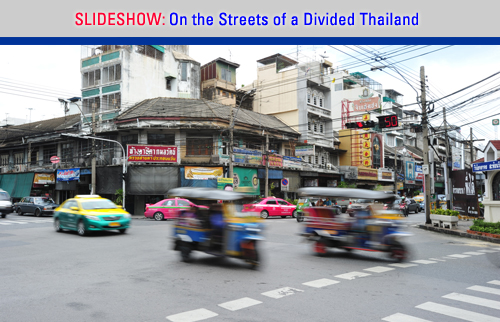 About our blog, InAsia
InAsia
is a weekly in-depth, in-country resource for readers who want to stay abreast of significant events and issues shaping Asia's development, hosted by
The Asia Foundation
. Drawing on the first-hand insight of over 70 renowned experts in over 20 countries,
InAsia
delivers concentrated analysis on issues affecting each region of Asia, as well as Foundation-produced reports and polls.
InAsia
is posted and distributed every other Wednesday evening, Pacific Time. If you have any questions, please send an email to
[email protected]
.
Contact
For questions about
InAsia
, or for our cross-post and re-use policy, please send an email to
[email protected]
.
The Asia Foundation
465 California St., 9th Floor
San Francisco, CA 94104
Mailing Address:
PO Box 193223
San Francisco, CA 94119-3223
Leaders on the Frontlines:
Leaders for a Better World
Tuesday, November 9, 2021, 6PM PT