Community Groups Unite to Protect Cambodia's Fishery Sector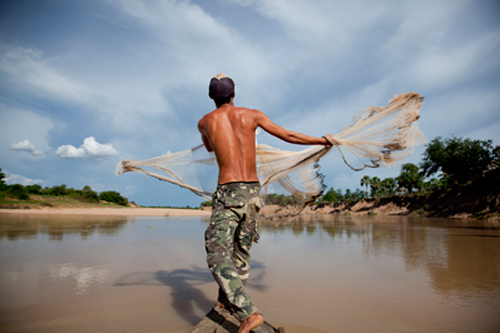 Just a few months ago, Choeung would not have dreamed of speaking in public. But that was before he and his fellow fishermen from the community fishery of Stung Kambot in Kampong Thom province began meeting to discuss the problems that were threatening their livelihoods.
Less than nine months later, Choeung stood before an audience of more than 300 people in the Kampong Thom Provincial Hall, including high-ranking officials, deputy governors from seven provinces, and an under-secretary of state. The occasion was a Cross-Provincial Workshop, organized by The Asia Foundation in partnership with Oxfam Great Britain and local NGOs, as part of the Foundation's Civil Society and Pro-Poor Market Program. The program brings together rural community groups to promote access to natural resources, better resource management, and economic diversification.
Choeung explained how his community-based organization (CBO) had worked to protect the local fishery from illegal nets. They convened several meetings, he said, first among themselves, then with commune, district, and provincial authorities, to urge enforcement of the law prohibiting environmentally destructive fishing.
Prior to the Cross-Provincial Workshop, says Choeung, "the members of my CBO…were helpless when some fishermen violated the fishery law and destroyed their fishing resources. [Now] we participate in commune- and province-level Public-Private Dialogues that give us great opportunities to talk directly with public officials and work with them to solve common issues."
In a significant step, Choeung's CBO and the Fishery Administration Cantonment have formalized their cooperation in a new agreement setting clear fishing boundaries and permissible equipment. The Fishery Inspectorate also gave mobile phones to Choeung and other representatives of fishery communities. Now, when boats using prohibited nets enter the protected area, the community can immediately alert the authorities, who are committed to taking action against illegal and environmentally destructive fishing.