Local Mediation: A Transformative Approach to Conflict in Nepal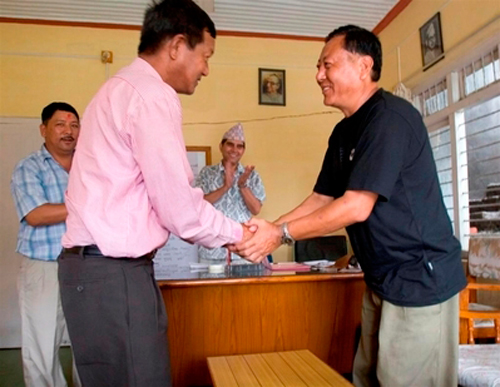 Often, when the parties to a civil war achieve a peaceful settlement at the national level, citizens at the local level will continue to suffer the effects of violence and social upheaval. Such is the case today in Nepal, after nearly a decade of open warfare. As the Constituent Assembly struggles toward a national resolution, much of the population faces intractable local problems, from the resettlement of displaced people and disputes over private property, to an increase in the culture of violence and vengeance, and the lingering effects of wartime trauma. And because local outbursts of violence, chaos or unrest can derail the national accord, effective national peacebuilding must also address these local roots of conflict and crisis.
Recognizing this need, The Asia Foundation has launched the Community Mediation Program in Nepal to help communities defuse local conflicts and address their underlying causes. Since its inception in 2004, this community-based program has helped contain and resolve conflicts in 118 localities throughout the country.
The Community Mediation Program involves facilitation, mediation, and problem-solving processes that strengthen people's ability to analyze situations, consider the perspectives of others, and envision practical, long-term solutions. Disputants are trained to listen to each other's experiences, and how to respect the other person's point of view. Mediation sessions can transform adversarial tensions among neighbors and families into cordial relationships based on values of equality, mutual respect, and participation.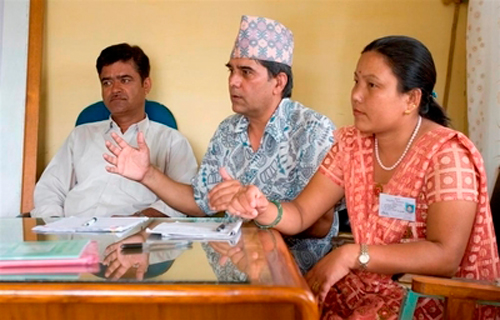 Community mediators, trained in basic peacebuilding concepts and methods, do more than just resolve cases. Research by The Asia Foundation shows that community mediation programs can improve relationships across castes and ethnic divisions, increase civic participation by traditionally excluded groups, and help create a social framework for trust beyond the strict boundaries of dispute resolution. Where the Community Mediation Program has been active, there is growing recognition that justice can be better achieved through discussion and negotiation than through confrontation.
A new Nepali-based training group will soon begin work to expand the practice of mediation across the country. Community mediation has been formally acknowledged in new national legislation recognizing the important role of local mediation in this country, just emerging from civil war, and still facing deeply rooted sources of conflict.