New Paper Examines Food Security in Asia and the Changing Role of Rice
October 20, 2010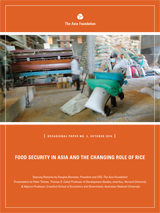 To explore the critical issues surrounding the global challenge of food security, The Asia Foundation joined with the Asian Development Bank, the UN Food and Agriculture Organization, the International Fund for Agricultural Development, and the U.S. Agency for International Development for a major conference, "Food for All: Investment Forum for Food Security in Asia and the Pacific," at the ADB headquarters in Manila from July 7-9, 2010. Douglas Bereuter, president of The Asia Foundation, moderated a key plenary session on "Fostering Food Security Through Regional Cooperation and Integration." Eminent food security economist Peter Timmer laid out the challenges, opportunities, and likely action points for achieving shared food security. The remarks from the conference are available in this fourth paper in the Foundation's continuing Occasional Paper series. Download the paper.
About our blog, InAsia
InAsia
is a bi-weekly in-depth, in-country resource for readers who want to stay abreast of significant events and issues shaping Asia's development, hosted by
The Asia Foundation
. Drawing on the first-hand insight of renowned experts,
InAsia
delivers concentrated analysis on issues affecting each region of Asia, as well as Foundation-produced reports and polls.
InAsia
is posted and distributed every other Wednesday evening, Pacific Time. If you have any questions, please send an email to
[email protected]
.
Contact
For questions about
InAsia
, or for our cross-post and re-use policy, please send an email to
[email protected]
.
The Asia Foundation
465 California St., 9th Floor
San Francisco, CA 94104
Mailing Address:
PO Box 193223
San Francisco, CA 94119-3223
2022 Impact Report
Thank you for powering The Asia Foundation's mission to improve lives and expand opportunities.