Cambodia Takes Stand Against Human Trafficking, Q&A with Nandita Baruah
November 17, 2010
On a recent visit from Phnom Penh, In Asia spoke with chief of party of The Asia Foundation's Counter Trafficking in Persons program in Cambodia, Nandita Baruah, about Cambodia's recent strides in the fight against human trafficking and on-the-ground challenges that still remain. Baruah recently joined international trafficking experts to discuss human trafficking challenges in Asia at forums in Washington, D.C., and in New York. Watch a video of the New York conference, co-hosted by The Asia Society.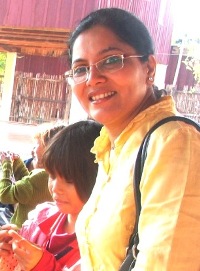 Q: In June, the U.S. State Department released its 2010 Trafficking in Persons Report. This year, Cambodia has been upgraded to Tier 2, an improvement over last year's Tier 2 Watchlist. What does this change on the ground?
This is basically an endorsement of the commitment that the Cambodian government has recently shown in addressing trafficking. Since 2008, when a law passed, called the Law on Suppression of Human Trafficking and Sexual Exploitation, things have really moved in a positive way in many areas here. One of the largest shows of commitment is the new high-profile, inter-ministerial body, which includes 14 ministries and civil society representatives, the National Committee to address trafficking under the Ministry of Interior and the Deputy Prime Minister. More importantly, the National Committee is not just looking at addressing sex trafficking, but also addresses labor exploitation and human smuggling and has the power to call on other ministries to act. This was a big commitment, and it made our work with other ministries much more convenient now that we can go through this one umbrella body to facilitate partnerships and cooperation with key stakeholders in the government.
Q: A number of anti-trafficking public awareness campaigns are underway, including pushing the idea that tourism could be negatively affected by sex industry. Does this reflect a movement among Cambodia's elite to combat trafficking?
It's true that people are starting to get on board. Cambodia's leadership is beginning to recognize the human resource cost of trafficking if so many of its women and girls are put into trafficking and sex work – it doesn't help a country that is not very big to start with. Cambodia also still struggles with certain social issues, like gender rights. More importantly, however, is that Cambodia wants to be seen as taking trafficking seriously in the region. Cambodia is seeing its men being trafficked into exploitative labor in Thailand and its women being sent into exploitative labor in Malaysia. It's also a receiving country for Vietnamese women who are trafficked into Cambodia and sold into sex. Recently, Cambodian leadership began recognizing that it needs to step into a role where it can protect the movement of its own people and ensure other countries like Vietnam that it will take steps to provide protection for their citizens if they are being exploited in Cambodia.
Q: And, last year Cambodia became the first Southeast Asian country to pass a victim protection guideline and policy that includes training for officials on the use of these standards.
In this short time, the act has helped both civil society players in Cambodia, and the police and social workers recognize that it's not enough to only ensure the rights of victims, it's also critical to ensure better prosecution. But, you need a protected victim to ensure better, more articulate testimony. Since this act, we've worked with the government and local partners to provide extensive training of workers across Cambodia to prepare them to deal with victims more effectively at the community level. Cambodia is not a country that has the resources to put victims into long-term shelter home care, which has never been the best solution in any case. Eventually, they must go back into the community, and reintegration requires support from the civil society and from the government. That's what the victim protection act is trying to do – get community level social workers to better support victims once they go back into their villages.
Just two months ago, we worked closely with the Cambodian national police to pass the Instructions on Raid and Rescue for victims of trafficking/sexual exploitation. This policy sets out minimum, non-negotiable standards that police have to follow when conducting a raid and rescue operation – and be prepared to address the victims once they are rescued. This is a big step forward and we are hoping that the next step will be a victim identification checklist.
Q: In a country emerging from a violent, turbulent recent past, human resource capacities and skill levels are low. What is being done to train police officers and social workers in anti-trafficking work?
We are working very closely with some of the frontline service providers to really build their capacity on issues which are both basic and complex. While on one hand we are working with our civil society partners to build the capacity of law enforcement officers to understand how to better conduct criminal investigations and how to plan a rescue operation, we are also trying to get both police and social workers to more effectively apply victim protection principles in their every day work. The fact that Cambodia has a policy and minimum standards on protecting the rights of victims of human trafficking does make our work a bit easier. However, applying these concepts requires more financial and structural resources, and stronger structures of governance than what is now available.
Q: Conviction rates for human trafficking perpetrators are on the rise globally, yet in Asia, they are down – including in Cambodia. Why?
Even on the trafficking side, a lot of the challenges still remain with court cases getting translated into convictions. For judiciary to function as an independent body, you need to have a strongly structured operational democratic system. It requires a level of transparency that in a society like Cambodia – which is still formulating its democratic process – has yet to achieve. To adequately address human trafficking from a crime prevention perspective, a strong judicial response that holds the perpetrator to account is critical. We've had some success in initiating dialogue on policy level issues with the Ministry of Justice, for example, we recently developed a coordinated approach for tracking data from arrests to prosecution and convictions. We are also providing training to incumbent and new judges on the trafficking law in collaboration with the Royal Academy for Judicial Professionals. But there is still a lot that needs to be done for the existing legal provisions to be applied effectively with accepted international treaties and conventions on human trafficking.
Q: Peace and stability are new concepts in Cambodia, and a sense of normalcy a new concept. What connection does this have to the issue of trafficking?
You are dealing with a society that has really not solved its psychosocial problems coming out of the Khmer Rouge regime. The emotional upheaval that society faced for years has naturally left its scars. To me, this is evident in the silence and tolerance to violence and abuse that we find in Cambodian society. Here, people would not necessarily perceive a particular act as deeply violent or deeply abusive, or they would rather just keep quiet. The acceptance of people and families to trafficking, rape, or sexual abuse is reflected in the large number of out of court monetary settlements that families or relatives of victims seek. This can also be interpreted as lack of faith in the formal system of justice delivery. Either way, it is most certainly linked to Cambodia's recent dysfunctional social and political history. For a society that is trying to function within a new found normality, it is very hard to take any action that might trigger friction in the community or the family. People would rather keep the status quo, the equilibrium, than say, report his or her neighbor. For example, we recently did a poll of approximately 236 men who were repatriated from Thailand, and most of them who had been trafficked into exploitative labor situations didn't want to take action against their traffickers because they were from the same community or they tend to accept it as their "Karma."
*The Asia Foundation's Counter-Trafficking in Persons Project in Cambodia is supported by USAID and the U.S. Government.
About our blog, In Asia
In Asia
is a weekly in-depth, in-country resource for readers who want to stay abreast of significant events and issues shaping Asia\'s development, hosted by
The Asia Foundation
. Drawing on the first-hand insight of over 70 renowned experts in over 20 countries,
In Asia
delivers concentrated analysis on issues affecting each region of Asia, as well as Foundation-produced reports and polls.
In Asia
is posted and distributed every Wednesday evening, Pacific Time and is accessible via email and RSS. If you have any questions, please send an email to
editor.inasia@asiafoundation.org
.
Subscribe
Contact
For questions about
In Asia
, or for our cross-post and re-use policy, please send an email to
editor.inasia@asiafoundation.org
.
The Asia Foundation
465 California St., 9th Floor
San Francisco, CA 94104
Mailing Address:
PO Box 193223
San Francisco, CA 94119-3223