New Book Reveals Anti-Corruption Strategies for the Philippines
November 17, 2010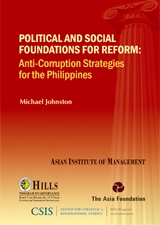 In July 2009 and February 2010, the Hills Program on Governance at the Asian Institute of Management and The Asia Foundation brought Michael Johnston, Charles A. Dana Professor of Political Science at Colgate University, to the Philippines to assess areas of corruption vulnerabilities in the country and to develop recommendations for strategies to address those vulnerabilities. During his visits, he met with a number of business leaders, government officials, academics, and civil society leaders, all of whom provided him with their insights on the governance situation in the country. His findings and recommendations are presented in his latest book, Political and Social Foundations for Reform: Anti-Corruption Strategies for the Philippines, launched on Nov. 8, 2010, in Makati City, Philippines. Below is an excerpt.
Corruption – entrenched, persistent, lucrative, and usually facing relatively weak constraints – is a major cause, and consequence, of the Philippines' persistent problems of economic development and democratic consolidation. No one would attribute all of the nation's problems to corruption, and in no way does corruption negate all that is good about the nation and its people. Further, the Philippines is by no means alone in facing such problems – for every country has corruption – nor are its difficulties the worst in the world.
Still, corruption has helped produce a chronically ill economy; spectacular inequalities of wealth and privilege; a weak-but-heavy state; political processes that are contentious but rarely decisive, save in the sense of giving one elite faction advantages over others; representative institutions that are part of the country's elite- and faction-driven political pattern, rather than aggregating and expressing grassroots interests; a judiciary facing many threats to its independence, and in need of shoring up its own credibility; and a citizenry that must contend with poverty while coping with all of the above. Moreover, each of those problems, among others, creates opportunities and incentives for further abuses. If, as I will suggest in the pages to come, corruption is such an embedded problem – not something that "happens to" a society, but rather an outgrowth of history, culture, problems of development, and contemporary difficulties in the way the society governs itself and organizes its economy – what, if anything, can be done? If, as is the case through history, a number of formerly high-corruption societies have brought the problem under control, what lessons can be learned from such cases, and how can we apply them in the Philippines?
This paper does not recommend or develop an inventory of process-oriented reforms. Instead, it emphasizes ways of building political foundations for corruption control over the middle to long term. I offer a list of specific proposals to be laid before President Aquino and his advisors, both for short-term and longer term action, and outline a basic implementation sequence for the most distinctive aspect of the strategy.  Download the full book.
About our blog, InAsia
InAsia
is a bi-weekly in-depth, in-country resource for readers who want to stay abreast of significant events and issues shaping Asia's development, hosted by
The Asia Foundation
. Drawing on the first-hand insight of renowned experts,
InAsia
delivers concentrated analysis on issues affecting each region of Asia, as well as Foundation-produced reports and polls.
InAsia
is posted and distributed every other Wednesday evening, Pacific Time. If you have any questions, please send an email to
[email protected]
.
Contact
For questions about
InAsia
, or for our cross-post and re-use policy, please send an email to
[email protected]
.
The Asia Foundation
465 California St., 9th Floor
San Francisco, CA 94104
Mailing Address:
PO Box 193223
San Francisco, CA 94119-3223
Change Starts Here Campaign Impact
Thank you for powering The Asia Foundation's mission to improve lives and expand opportunities.