Q&A with Nobel Prize Laureate, Political Economist Elinor Ostrom
December 8, 2010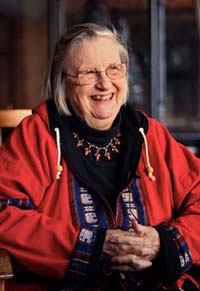 In 2009, American political scientist and Indiana University Professor Elinor Ostrom became the first woman to receive the prestigious Nobel Memorial Prize in Economic Sciences for her work on collective action and cooperation: how people work together successfully without regulation by central authorities or privatization. Her 45 years of work extends from studying police departments across the U.S. to extensive field work in Nepal, where she has traveled repeatedly to spend time in rural villages examining how communities share natural resources like irrigation systems and forests.
From December 5-8, The Asia Foundation helped bring Ostrom, at the invitation of the Nepal government and the Ambassador to the U.S., Dr. Shankar Sharma, who is traveling with Ostrom, back to Nepal to discuss her work in local governance with President Ram Baran Yadav and other senior-level officials. While there, she spoke with In Asia about her work and how it has informed the work of policy-makers and non-governmental organizations, including The Asia Foundation, and her thoughts on the importance of emphasizing local governance as the country is in the process of writing its  constitution. Ostrom was accompanied by the Foundation's Country Representative in Nepal George Varughese, a former doctoral student of Ostrom's at Indiana University.
Q: How did it feel to be the first woman – especially one who was greatly discouraged from even going into the field of economics – to win the Nobel Prize?
It was a great surprise and a great honor to be awarded the Nobel Prize. I was pleased that I was recognized both for my work and to help recognize the work of many women scientists across the world.
Q: You argue that common control over resources is far more effective than outside control by a governing body or institution. How did you come to that conclusion?
I have found many settings where farmers and rural villagers have organized irrigation and forestry systems that worked better than government systems. That is not a universal finding. It occurs when villagers do have relatively accepted authority to make their own rules, develop a community of users with high trust, and invest in maintaining the system as well as monitoring it.
Q: Nepal is emerging from two decades of political turbulence, and one casualty in this has been attention to local governance and local institutions that communities use to manage themselves and their resources. The Asia Foundation has always considered good local governance as a key determinant of long-term stability and development, and since 2009, has been working with policy-makers to inject local governance into the constitutional process. Where do you see local governance in the constitution process?
It is very important that multiple levels of governance are authorized in the next constitution. The detail of the operational rules that could be used in the local setting should be defined by those governance bodies. In other words, the rules that work very well for an irrigation system in the Terai are different than the rules that would work very well for a system in the middle hills. Thus, local governance will be very important in the future. It is also very important that sufficient autonomy is given to local governance arrangements so that they can devise rules for their own system rather than having to cope with a universal set of rules.
Q: Since the war, people in Nepal have been coping with an absence of goods and services at the local level because of a lack of local government. Your field research in Nepal serves as a seminal tool for how local governance can be successful. For example, your work informed a project of ours that organized citizens' committees at village level to scrutinize delivery of public goods and services at the local level. How do you think your work can be implemented in policy decisions?
A research program can never be implemented directly in policy decisions. What can be implemented is a recognition that users of resources at a local level are able to govern that level very effectively and that authorizing the local level to establish their own rules will be a major accomplishment of the new era.
Q: Your work has influenced many, including The Asia Foundation's Country Representative in Nepal, George Varughese. From institutional analysis that you pioneered, the Foundation is helping Nepalis to better understand economic and political institutions, which we most recently used in our study of resource allocation in municipalities. How can these methods be applied in a post-war environment, where local governments have largely been disabled?
Here I have to respond that local governments need to be enabled. It is very important that they are able to tax their own citizens, make their own rules, and develop units within them that are related to environmental resources such as irrigation systems or local forests.
Q: You must have encountered enormous challenges, as this way of thinking certainly challenged common discourse which focused on the power of the market and state. What have been some of your biggest challenges?
It has been a challenge to design large-scale, carefully designed research projects which will provide good ecological, social, political, and economic information about the consequences of diverse forms of institutions at multiple scales. We fortunately developed the Institutional Analysis and Development (IAD) Framework in the 1980s and have been able to use that framework to guide a great deal of our research. Thus, it has cumulated in a way that would not have been possible but for having a common framework that crossed different scales and ecological puzzles.
Watch the video below for more information about The Asia Foundation's local governance work in Nepal.
About our blog, In Asia
In Asia
is a weekly in-depth, in-country resource for readers who want to stay abreast of significant events and issues shaping Asia\'s development, hosted by
The Asia Foundation
. Drawing on the first-hand insight of over 70 renowned experts in over 20 countries,
In Asia
delivers concentrated analysis on issues affecting each region of Asia, as well as Foundation-produced reports and polls.
In Asia
is posted and distributed every Wednesday evening, Pacific Time and is accessible via email and RSS. If you have any questions, please send an email to
editor.inasia@asiafoundation.org
.
Subscribe
Contact
For questions about
In Asia
, or for our cross-post and re-use policy, please send an email to
editor.inasia@asiafoundation.org
.
The Asia Foundation
465 California St., 9th Floor
San Francisco, CA 94104
Mailing Address:
PO Box 193223
San Francisco, CA 94119-3223