First-Ever Asia Foundation Survey in Thailand's Troubled Deep South is Released
December 15, 2010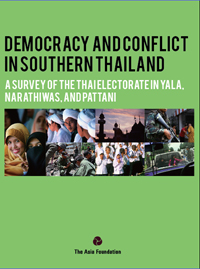 On December 16 in Bangkok, The Asia Foundation released the results of its first in-person public perception survey conducted in Thailand's three southern border provinces. Since 2004, the provinces of Yala, Narathiwas, and Pattani have been the locus of an indigenous separatist movement and communal conflict that has shaken a tradition of peaceful coexistence between the majority Malay-Muslim and minority Buddhist communities of the Deep South.
The conflict has claimed over 4,000 lives, left thousands more injured, and exposed residents of the southern border provinces to a persistent environment of tension, insecurity, and uncertainty.
A variety of peace initiatives have been undertaken in an effort to resolve a conflict whose complexities defy easy understanding or clear practical solution. While government agencies and various interest groups have taken modest good-faith efforts to canvass the views and expectations of ordinary citizens of the Deep South, many southerners have been reluctant to speak candidly in formal settings. Their hesitation reflects a combination of traditional norms, security concerns, and lack of confidence in the sincerity of government efforts to understand the unique cultural identity of the Pattani-Malay community. As a result, while there has been abundant speculation on citizen views and expectations in the southern border provinces, little concrete information has been available from empirical research.
In 2009, the Foundation conducted its first national public perception study of the Thai electorate, which adapted core elements of Foundation surveys conducted in other Asian countries for the Thailand context, with a focus on constitutional reform and democracy. While we had planned to conduct the National Survey in all provinces, security concerns and the absence of professionally trained surveyors equipped to administer the survey in the Pattani-Malay dialect resulted in the three southern border provinces being left out. In response, we worked with local technical partner MIAdvisory to recruit and train a team of surveyors from the Deep South. In July and August 2010, this team conducted face-to-face interviews with 750 male and female citizens in Yala, Narathiwas, and Pattani. With support from the U.S. Agency for International Development (USAID), the Survey of the Thai Electorate in Yala, Narathiwas, and Pattani combined a set of questions drawn from the 2009 National Survey and a second block of questions that explored citizen views on the southern conflict, the factors that fuel it, the present state of governance in and future political options for the Deep South, and the cultural and other factors that distinguish the Pattani-Malay community.
As reflected in the more detailed analysis of the survey results presented in a separate blog piece by our Regional Director for Conflict and Governance Thomas Parks, the Southern Survey report captures the nuanced views of Malay-Muslim majority and minority Buddhist communities of the Deep South on national issues, the southern conflict, and prospects for peace. The survey findings also illuminate similarities and divergences of view between citizens nationally and residents of the Deep South. On certain issues, southern and national views are closely aligned, while on others, fine-grained distinctions separate seemingly like views. Southerners expressed greater optimism for the future than their national compatriots on certain issues, while on others striking variations separate southern views from broader national perspectives. For example, when asked to identify the biggest problem facing Thailand in 2009, 60 percent of citizens nationally pointed to the bad economy, while just 23 percent of southerners cited economic malaise.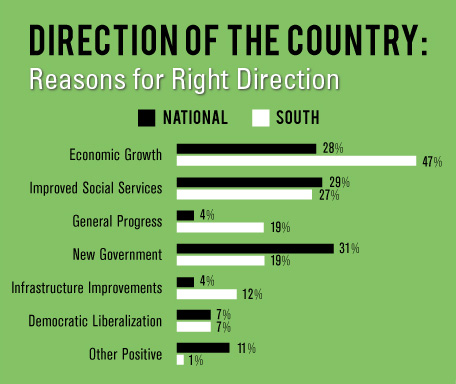 Twenty percent of Deep South respondents cited the southern conflict as the biggest problem, versus 3 percent nationally. These and other differences underline the profound effects of the southern conflict on personal security, confidence in the capacity, independence, and integrity of public institutions, and expectations for the future. The survey canvasses factors that contribute to the southern conflict, priority reform initiatives, and potential steps to mitigate the conflict. Those latter prospects include political decentralization, efforts to raise confidence among members of the Pattani-Malay community that their unique cultural heritage, identity, and values are recognized and respected by the government, and other steps toward peace and reconciliation that involve better communication, improved understanding, and reciprocal, respectful compromise.
As a follow-up to the formal launch of the Southern Survey in Bangkok, our program staff members here look forward to discussing the practical program and policy implications of the survey findings with local partner organizations in government, civil society, grassroots media, and other stakeholder groups, including outreach to communities in the Deep South. With national elections anticipated within the next year or two, we hope that the Southern Survey results, together with those of the Foundation's second national perception survey covering all 26 provinces (scheduled for release in early 2011), will provide insights on the views and expectations of the Thai electorate of interest to lawmakers, political leaders, government officials, academics, international observers, and other stakeholders. We welcome reader feedback on our survey research.
Kim McQuay is The Asia Foundation's country representative in Thailand. He can be reached at [email protected].
About our blog, InAsia
InAsia
is a weekly in-depth, in-country resource for readers who want to stay abreast of significant events and issues shaping Asia's development, hosted by
The Asia Foundation
. Drawing on the first-hand insight of over 70 renowned experts in over 20 countries,
InAsia
delivers concentrated analysis on issues affecting each region of Asia, as well as Foundation-produced reports and polls.
InAsia
is posted and distributed every other Wednesday evening, Pacific Time. If you have any questions, please send an email to
[email protected]
.
Contact
For questions about
InAsia
, or for our cross-post and re-use policy, please send an email to
[email protected]
.
The Asia Foundation
465 California St., 9th Floor
San Francisco, CA 94104
Mailing Address:
PO Box 193223
San Francisco, CA 94119-3223
Leaders on the Frontlines:
Leaders for a Better World
Tuesday, November 9, 2021, 6PM PT