Household Corruption in Mongolia Drops to Record Low
December 15, 2010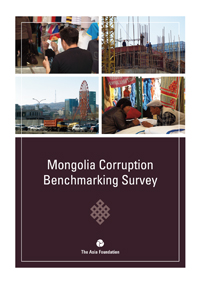 On December 9, The Asia Foundation's Mongolia office released its 10th Corruption Benchmarking Survey (CBS), the only tool that measures both public perceptions of institutional corruption, and the impact of petty corruption on the day-to-day life of Mongolian households. Through random, face-to-face interviews, a sample of 1,000 adults were asked about bribe requests, frequency, and amount, as well as their confidence in government and public institutions in combating corruption. While some figures suggest that Mongolia is chipping away at its long battle to combat corruption – corruption dropped from the third to the fourth biggest concern of the respondents, and the percentage of households that paid a bribe in a 3-month timeframe decreased to 13 percent – average bribe amounts jumped to an all-time high of MNT 416,000 (approximately $315).
Although there is significant distance to cover before Mongolia eradicates corruption, many signs are pointing in the right direction. Conducted twice a year in collaboration with the Sant Maral Foundation, the Benchmarking Survey provides a unique and robust tool for government policy-makers, enforcement bodies, and civil society groups to observe and assess the impact of government and non-government initiatives to fight corruption in Mongolia.
About our blog, InAsia
InAsia
is a weekly in-depth, in-country resource for readers who want to stay abreast of significant events and issues shaping Asia's development, hosted by
The Asia Foundation
. Drawing on the first-hand insight of over 70 renowned experts in over 20 countries,
InAsia
delivers concentrated analysis on issues affecting each region of Asia, as well as Foundation-produced reports and polls.
InAsia
is posted and distributed every other Wednesday evening, Pacific Time. If you have any questions, please send an email to
[email protected]
.
Contact
For questions about
InAsia
, or for our cross-post and re-use policy, please send an email to
[email protected]
.
The Asia Foundation
465 California St., 9th Floor
San Francisco, CA 94104
Mailing Address:
PO Box 193223
San Francisco, CA 94119-3223
Leaders on the Frontlines:
Leaders for a Better World
Tuesday, November 9, 2021, 6PM PT