BULLETIN
Winter 2010/2011
Cambodia: Countering Domestic Violence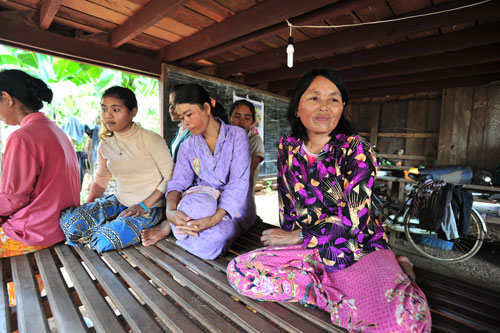 In a groundbreaking 1994 report The Asia Foundation identified some of the underlying causes of domestic violence in Cambodia: a culture of male dominance; police reluctance to intervene; pressure on women victims not to sully their families' reputations; and, the Khmer ideal of a "perfect lady," still taught in schools, which instructs wives never to say anything negative about their husbands.
Changing these attitudes would require a new national conversation about domestic violence. With our assistance, the Project Against Domestic Violence (PADV) opened its doors in Cambodia in 1995. By 2002, PADV had an ongoing series of discussion groups for men of all ages. Some of those men went on to form Men Stop Violence, a network of groups working to change traditional attitudes and support women survivors of violence in their communities.
Women's beliefs have also been changing. Polled before a recent PADV workshop, 87 percent of the women participants said that, "domestic violence is a private issue, and if it occurs, people outside of the family should not intervene." After the workshop, 96 percent said it was not.
Today, the government and other NGOs are following in PADV's footsteps. The Cambodia Women's Crisis Center offers workshops and trainings aimed at changing attitudes toward women and violence. The Ministry of Women's Affairs' strategic plan on gender equality and women's empowerment is spreading the message that domestic violence is a crime.
That this infrastructure to address domestic violence now exists where there was virtually none just 15 years ago is a success in itself – one that is already helping to change attitudes.