BULLETIN
Winter 2010/2011
PARTNER HIGHLIGHT: Del Monte Foundation Gets books to Children in the Philippines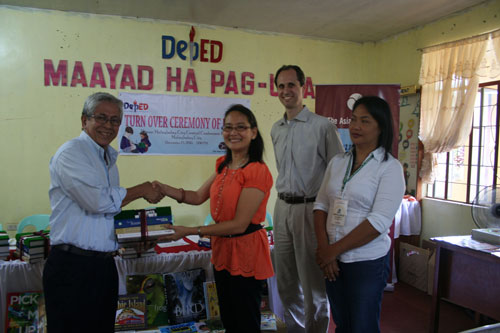 In December the Del Monte Foundation joined with Books for Asia to donate 12,600 new children's books to nearly 250 public elementary schools in Bukidnon, in the Southern Philippines. Bukidnon is a largely rural province of Mindanao, an island plagued by endemic poverty and sectarian violence. Many there still follow a traditional lifestyle in the remote forests and low-lands, where educational resources are extremely scarce. "We are proud to work with committed organizations like Del Monte Foundation in strengthening educational opportunities in these communities and the rest of the Philippines," said Asia Foundation Deputy Country Representative Ky Johnson.
"This is a perfect holiday gift for children and their teachers, many of whom do not have libraries or even a reading corner in their school," said Bella Quimpo, executive director of the Del Monte Foundation. "Key to an organization's success is to have productive and complementary linkages with other organizations. We look forward to continuing this partnership so that more and more communities may benefit from our synergy." Mr. Johnson and Ms. Quimpo joined Efren Balajadia, director of Books for Asia in the Philippines, as he presented the donated texts to principals and school representatives in a ceremony in Malaybalay City (pictured above). "This is a very timely blessing to our pupils most especially to the remotest schools in our province," said Dr. Florante M. Corpuz, Malaybalay City Schools Division superintendent.
Since 1954, Books for Asia has distributed 14 million books and journals to public and private institutions across the Philippines. The science, math, and English-language elementary school books and reference materials were generously provided by publishers, including Pearson Education and McGraw-Hill.