New Book Examines Innovations in Local Economic Governance in Asia
May 25, 2011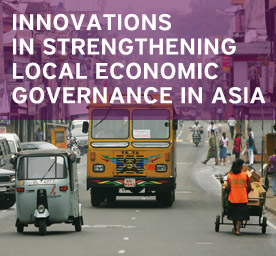 The global financial crisis that shocked both East and West has left economic managers and political leaders "distressed and fearful" for the first time since the Great Depression – so begins a new book entitled "Innovations in Strengthening Local Economic Governance in Asia," released today by The Asia Foundation. The book presents cutting-edge insights from on the ground in Asia from the Foundation's development experts in the U.S. and Asia on strengthening economic governance in Asia, and features case studies from the mid-1990s to the present in Bangladesh, Cambodia, Indonesia, Philippines, Sri Lanka, and Vietnam. In July, book co-author and chief economist Bruce Tolentino will bring his economic expertise to Afghanistan as the new country representative of The Asia Foundation's office in Kabul. Download book.
About our blog, InAsia
InAsia
is a bi-weekly in-depth, in-country resource for readers who want to stay abreast of significant events and issues shaping Asia's development, hosted by
The Asia Foundation
. Drawing on the first-hand insight of renowned experts,
InAsia
delivers concentrated analysis on issues affecting each region of Asia, as well as Foundation-produced reports and polls.
InAsia
is posted and distributed every other Wednesday evening, Pacific Time. If you have any questions, please send an email to
[email protected]
.
Contact
For questions about
InAsia
, or for our cross-post and re-use policy, please send an email to
[email protected]
.
The Asia Foundation
465 California St., 9th Floor
San Francisco, CA 94104
Mailing Address:
PO Box 193223
San Francisco, CA 94119-3223
Change Starts Here Campaign Impact
Thank you for powering The Asia Foundation's mission to improve lives and expand opportunities.