Can Affirmative Action Increase Women's Ability to Get Elected in Indonesia?
June 1, 2011
Democracy without the participation of women is not real democracy. Yet an effort to balance the male domination of political representation is not an easy task, even in an emerging democracy like Indonesia. The country's new political reality, with a multi-party system, still presents a number of significant challenges to democratic consolidation in Indonesia, including the effort to increase women's representation. Affirmative action policies have yielded interesting, and sometimes unexpected, results over the past years.
The belief that Indonesia should have a credible parliament was non-negotiable in the Reformasi agenda as the country emerged from over 30 years of authoritarian rule. The change in the political situation in Indonesia demanded changes in parliament's performance, from a "rubber stamp" enterprise to an independent institution that represents the people's interests. While much restructuring to improve the parliament occurred prior to the 1999 elections, women's groups and a number of civil society organizations here noted that the first free and fair election after Reformasi resulted in lower numbers of women representatives than before the end of authoritarianism, with only 8.8 percent female members in comparison to 12 percent. This result triggered discussions among women's groups about the need for affirmative action in the election laws to ensure a fully effective and representative parliament.
Research and advocacy efforts were conducted between 1999 and 2003 to draft an acceptable affirmative action policy for the young democracy. Women's groups and civil society organizations developed a proposal to introduce a 30 percent quota for female candidates out of the total political party candidates who run for office. This is not an ideal number, but the internationally agreed-upon minimum critical mass needed to ensure that women's voices and concerns can be adequately represented. This affirmative action policy was adopted in Law No. 31/2002 on Political Party and Law No. 12/2003 for the 2004 General Election. There was an increase in women's representation in the parliament resulting from the 2004 election to 11 percent, but this number was far lower than expected. Further analysis and research was conducted to determine what barriers still existed for women attempting to enter elected office.
One of our Asia Foundation partners, the Center for Political Study (Puskapol) at the University of Indonesia, conducted research in late 2010 of this nature. The study revealed that more than 90 percent of women candidates elected were ranked from 1 to 3 in the list of candidates at both the national and provincial/district levels. Likewise, the majority of male legislative candidates elected were in the top-ranked positions on party lists.
Data on women's seats achieved in the DPR and provincial and regency/municipal DPRDs was in harmony with this: the majority of women candidates elected were ranked from 1 to 3. It became clear that Indonesian citizens were largely influenced by a candidate's rank on party lists. As women were generally ranked lower than men in the party lists, women were still unequal candidates in Indonesian elections under the 2003/2004 affirmative action policy.
For the 2009 election, an additional provision was added to the affirmative action policy, known as the "zipper system." The zipper system required political parties to not only have 30 percent female candidates, but also to place them in an alternating fashion on the ballot paper. Election Law No. 10/2008 further mandated that, on the list of candidates in the ballot, there should be at least one female candidate for every three names. The zipper rule on placement of women candidates thus opened up new opportunities for the election of women to parliament.
The Puskapol study also confirmed that the increase in the number of women in the legislative institutions at the 2004 and 2009 General Elections was, in part, because of the affirmative policy requiring 30 percent women's representation among candidates and a zipper system for the ordering of candidates on the ballot. However, the increase in 2009, as in 2004, was not as large as expected or desired. After the major effort prior to the 2009 election to improve the affirmative action policy, the 2009 parliament only had 18 percent women parliamentarians, which is still far from 30 percent. This led many here to ask: What else, in addition to candidate ranking, was keeping women from elected office?
After looking further into the study's data on the spread of female representatives across political parties, the Center for Political Study saw that the level of compliance and support from each political party for women candidates varied drastically. The table below shows that some political parties, such as Demokrat, PKB, and Hanura, have over 20 percent female members in the national parliament, while only 5 percent of PKS members are female.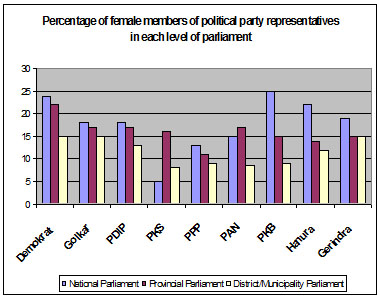 Political parties were not complying with affirmative action legislation across all levels of government. This lack of consistency hampers women's chances of being elected.
There are a number of additional barriers that can be removed to ensure that the current affirmative action legislation is effective. The Center's research also indicates that political parties also need to place more of their 30 percent of female candidates in stronghold electoral districts.  In previous elections, political parties often placed women in "unwinnable" districts, similar to their placement of women in "unwinnable" slots on the party ballot. As Indonesia enters a time of election law reform prior to the 2014 elections, provisions on political party compliance, size of electoral districts, and internal measures of affirmative action can be introduced into the discussion of affirmative action to more effectively promote women's participation in politics throughout Indonesia.
Hana A. Satriyo is director of The Asia Foundation's Gender and Women's Participation Program in Indonesia. She can be reached at [email protected]. The views and opinions expressed here are those of the individual author and not those of The Asia Foundation.
About our blog, InAsia
InAsia
is a weekly in-depth, in-country resource for readers who want to stay abreast of significant events and issues shaping Asia's development, hosted by
The Asia Foundation
. Drawing on the first-hand insight of over 70 renowned experts in over 20 countries,
InAsia
delivers concentrated analysis on issues affecting each region of Asia, as well as Foundation-produced reports and polls.
InAsia
is posted and distributed every other Wednesday evening, Pacific Time. If you have any questions, please send an email to
[email protected]
.
Contact
For questions about
InAsia
, or for our cross-post and re-use policy, please send an email to
[email protected]
.
The Asia Foundation
465 California St., 9th Floor
San Francisco, CA 94104
Mailing Address:
PO Box 193223
San Francisco, CA 94119-3223
Leaders on the Frontlines:
Leaders for a Better World
Tuesday, November 9, 2021, 6PM PT