Conversation with Afghan Expert Roohafza Ludin
June 8, 2011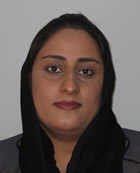 Recently, In Asia sat down with Asia Foundation governance specialist in Kabul, Roohafza Ludin, just back from Washington, D.C., where she participated in a seminar at Georgetown University to discuss U.S. foreign policy and the pending reduction of U.S. troops from Afghanistan. Ludin, one of a handful of women nominated to participate in the 2010 National Consultative Peace Jirga, talked to In Asia about her passion for education, women's anxiety over their government's recent reconciliation plans, and what it takes to bring quality education to Afghanistan's citizens.
Like many of Afghanistan's citizens during the 1980s and '90s, you and your family fled conflict over the border to Pakistan, where you began your career in education and humanitarian work. When you returned to Afghanistan in 2006, what was your impression of the country you had left when you were 16 years old?
When I returned after doing all that I had done, and as someone who has been through war and migration, I immediately saw that every aspect of the country was in dire need of support – from economic development and education to women's rights. Despite my commitment to humanitarian work in Pakistan, I felt that I was not doing enough on a personal level to help my country. At the same time, every single thing you do or face in Afghanistan is a challenge. I started working with the government in 2006 after my return as gender advisor to the State Minister for Parliamentary Affairs and then as a director in the Office of Parliamentary Affairs in the president's office.
I was working hard, long hours and received much appreciation for my work from colleagues, who were all trying hard to contribute to positive institution-building and to establish systems in the government and among the three pillars of the state. There were challenges, but there were many achievements, too, despite the fact that I still felt that not enough was being done. Education has always been a priority for me, and I believe it is key to all aspects of development. That's what ultimately drove me to start thinking about doing something in the field of education.
Is this what motivated you to open a private school in 1998 in your own neighborhood, one of Kabul's most heavily populated districts?
I must say, the fact that I am educated has been the main thing that has helped me find and actually realize the opportunities that I've had. But I saw that so many children, particularly girls, simply did not have access to quality education, especially at the high school and university level. I realized then that whatever we do in Afghanistan, whatever process we take to peace and reconciliation, whether the emphasis is on development, human rights, international support, or all of the above, it all depends on bringing more awareness to citizens about their needs and environments, and to do that, you need education.
How did you turn that vision into what is now a thriving school?
When my brother and I first came up with the idea, we had no idea how things would go. At that time, there were very few private schools in the area, so we started the process of registering with the Ministry of Education. We set a target to enroll 50 children during the first school year. But, by the end of the first month of school, we had 180 kids in the school. This year, we had nearly 350 students enrolled, and now offer classes up to the 11th grade.
People were so happy that there was a school in their community where their children could get a quality education, where they can be sure that their kids would actually study and not waste their time. Afghanistan's public schools – even in Kabul – face major challenges. An overall lack of qualified teachers is of course one challenge, but the limited schools and low teacher/student ratio means children attend in two or three hour shifts, which is very limited hours for study. And, even during those three hours, the Ministry lacks an effective monitoring system to ensure that those hours are maximized. As a result, many people from among those few families who can afford to pay prefer to send their children to private schools, where class sizes are smaller and teachers are generally better trained. I was shocked that students in the 4th and 5th grade and even older arriving from other schools could not even write their names in some cases.
In addition to the school, we have a public library that is available to families in the nearby community. We also conduct courses in mathematics, Islamic studies, computer and English-language skills, and teacher training programs throughout the year.
In a society rife with security concerns and an uncertain future, how do you change attitudes where some girls simply do not attend school? Isn't the literacy rate for girls less than 15 percent?
Over time, I've realized you can make everything available – full tuition, desks, books, schools – but you really have to work slowly with each family to renew their confidence.
When I first started the school, one elderly man came with his son who had gone to public school up to 7th grade. We sat for some time and discussed the curriculum and our teaching style. At the end he was convinced it's the right place for his son. I asked the boy to read, he couldn't read, and I asked him to write, and students in our first grade class could write better. I asked his father why this might be the case, and he replied that he was too busy working late to help with homework or visit his son's school. This family had a good life with a solid business – I was surprised and sad to see that after one week, we saw no development. When we told his father, he simply offered to pay more to solve the problem, which of course wasn't the solution. I then pointed out that all the teachers and staff at the school are female, and asked him about the boy's mother. Like many women here, his mother rarely left the house. On a whim, I asked him if he would drop his wife off at school on his way to work, since he was busy during the day. He said, "She is illiterate!" I insisted that I meet her despite that. The next morning she came, her Burkha down, and told me that she can't help her son, she hasn't been to school herself, and can't even read the Quran. I said I need a bit of your time, come and let's discuss this. I started giving her a schedule, and told her that if the son wasn't listening to her, to report back. She didn't know how to read and write, so couldn't make a judgment on whether he was doing homework. I said don't worry, at least just make sure he has six or seven subjects there, and for each subject, he has a notebook, and that he is at least writing or rolling the pencil on the white pages of his notebook. The first few days, he was coming with things you couldn't even read. Two weeks later, he started making progress. After four months, he was behaving like a student, coming in clean, with a proper uniform and an organized bag. When we had midterm exams, he did well, and in the final, he came second in his class. His mom now comes regularly to our classes on Quran and Islamic studies that we hold for women in the community. Each year, we face new challenges like this, and are working with families to address these issues. It's rewarding to know that we are making a difference even if on a small scale.
However, one issue that I've been slowly trying to address is that unfortunately in Afghanistan, even educated families invest very little in their girls.
I routinely find that in a family of four or five kids, the boys attend private schools and the girls attend public school. I've had many conversations with these families, and when they say they cannot afford to send all their kids to private school, I offer them help with tuition, but still you see there is little interest from the families to do this. So, sadly, we still end up with many more boys than girls in school, although there have been improvements.
Is there fear that the fragile advances made by women in Afghanistan could be at risk as President Karzai focuses on political negotiations that will include some of the same groups that have sought to limit freedom for women?
Definitely. There are concerns about the lack of clarity on what kinds of compromises might be made during these negotiations. Today, the status of women here is still very fragile and very vulnerable despite all efforts made and progress achieved. There have been experiences in the past on quick (political) fixes, which have left women out. It is still early enough to make sure those lessons learned are taken into account so women, who make up half of Afghanistan's population, are not ignored.
Roohafaza Ludin is The Asia Foundation's governance specialist in Kabul, where she manages the Foundation's program for increasing women's rights and access to justice in Afghanistan, and the Office of Administrative Affairs and Council of Ministers' Secretariat Capacity Enhancement (ACME) project. She can be reached at [email protected].
About our blog, InAsia
InAsia
is a weekly in-depth, in-country resource for readers who want to stay abreast of significant events and issues shaping Asia's development, hosted by
The Asia Foundation
. Drawing on the first-hand insight of over 70 renowned experts in over 20 countries,
InAsia
delivers concentrated analysis on issues affecting each region of Asia, as well as Foundation-produced reports and polls.
InAsia
is posted and distributed every other Wednesday evening, Pacific Time. If you have any questions, please send an email to
[email protected]
.
Contact
For questions about
InAsia
, or for our cross-post and re-use policy, please send an email to
[email protected]
.
The Asia Foundation
465 California St., 9th Floor
San Francisco, CA 94104
Mailing Address:
PO Box 193223
San Francisco, CA 94119-3223