Thailand's National Election
June 29, 2011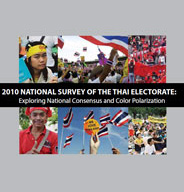 Since the emergence of Thailand's Yellow and Red movements, many observers have maintained that Thai citizens are deeply divided into two polarized camps: one comprised of traditional ruling elites, the other, of under-privileged rural masses. On July 3, Thais head to the polls in the first national election since violent protests left 91 dead in May last year. The Asia Foundation's recent National Survey of Thailand tests the degree to which Thailand has truly become polarized, and gives insight into what issues are most important to Thais as they select their next government.
About our blog, InAsia
InAsia
is a weekly in-depth, in-country resource for readers who want to stay abreast of significant events and issues shaping Asia's development, hosted by
The Asia Foundation
. Drawing on the first-hand insight of over 70 renowned experts in over 20 countries,
InAsia
delivers concentrated analysis on issues affecting each region of Asia, as well as Foundation-produced reports and polls.
InAsia
is posted and distributed every other Wednesday evening, Pacific Time. If you have any questions, please send an email to
[email protected]
.
Contact
For questions about
InAsia
, or for our cross-post and re-use policy, please send an email to
[email protected]
.
The Asia Foundation
465 California St., 9th Floor
San Francisco, CA 94104
Mailing Address:
PO Box 193223
San Francisco, CA 94119-3223
Leaders on the Frontlines:
Leaders for a Better World
Highlights from the event