Lotus Circle Honors Dr. David Ho for Work in Women's Health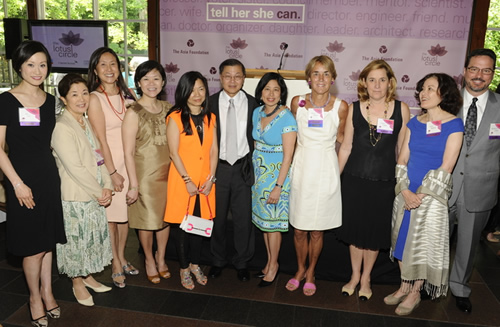 More than 200 supporters gathered at the Loeb Boathouse in New York's Central Park on June 8 to attend the inaugural Lotus Leadership Awards, presented this year to pioneering AIDS researcher Dr. David Ho, for his extraordinary contributions to the health of women and girls across China. Dr. Ho is CEO of Aaron Diamond AIDS Research Center.
The Lotus Leadership Award was conceived by The Asia Foundation's Lotus Circle, a new community of donors working to advance women and girls in Asia through our women's empowerment program; the award recognizes exceptional individuals who have contributed to the well-being of Asian women and society. Asia Foundation Trustees Gina Lin Chu and Missie Rennie, Rattray Kimura Foundation Founder Carol Rattray, and Graphis Asia Founder Masako Shinn—all Lotus Circle Advisors—chaired the inspiring, sold-out luncheon.
Attendees included former U.S. Secretary of the Navy and Asia Foundation Trustee William L. Ball, III and his daughter, Vanity Fair Columnist Sarah Ball; Financier Oscar Tang; Asia Society President Vishakha N. Desai and Vice President of Global Art Programs Melissa Chiu; and Pulitzer Prize winning Half the Sky author Sheryl WuDunn. ABC News Correspondent Lynn Sherr, known for her reporting on women's issues and social change, hosted, saying: "Women are history makers. They are pioneers and change agents." Asia Foundation President David D. Arnold said: "Dr. Ho's landmark HIV/AIDS policy work cleared the way for organizations like ours to speak candidly with young Chinese migrant women workers about their health and their rights." Since the late 1990's, The Asia Foundation has educated more than 900,000 women in over 1,000 factories in more than 22 cities and districts in the Pearl River Delta about personal health, safety, and their legal rights. Corporate sponsors included Chevron, Estée Lauder Companies, Credit Suisse, EastWest Bank, and Warburg Pincus.