Sri Lanka Dialogue Explores Aid Between Asian Nations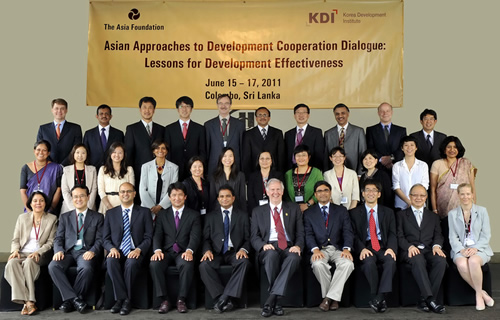 Korea has pledged to triple its official aid to developing countries by 2015; increasingly, emerging Asian economies are contributing significant resources to less developed Asian nations.
In an expansion of our relationship with the highly regarded Korea Development Institute, we co-sponsored a dialogue in Sri Lanka for Asian aid experts and senior government officials from Singapore, Korea, China, India, Malaysia, and Thailand to discuss the topic of development assistance between Asian nations. The mutual benefits of aid and development, non-interference in political issues, and infrastructure investment and concessional loans were discussed in an atmosphere of learning and openness. Sri Lankan officials from the Ministry of Finance and Planning and Ministry of External Affairs attended; Central Bank Governor Ajith Nivard Cabraal delivered the keynote speech at the welcome dinner.
A number of insights from this important dialogue will be shared among 2,000 international aid and development delegates in November in Busan, Korea, at the Fourth High Level Forum on Aid Effectiveness. Previous Forum meetings have taken place in Rome, Paris, and Accra.
We actively work with Korean government agencies and NGOs to improve aid effectiveness and share knowledge. Last year, we organized conversations for country-level representatives of The Asia Foundation and KOICA, the official Korean aid agency, to explore ways of cooperating on the ground in Asia. We also arranged for Korean aid managers to travel to Sri Lanka to observe local governance aid in post-conflict areas; Sri Lankans then traveled to Korea to study the country's expertise in promoting public-private partnerships to accelerate development.