Killing the Cranes: A Reporter's Journey through Three Decades of War in Afghanistan
August 10, 2011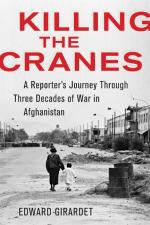 Edward Girardet has made an important contribution to the growing body of literature on war-time Afghanistan in this sweeping and personal account of the country's travails beginning just before the Soviet occupation and leading up to the present. Killing the Cranes: A Reporter's Journey through Three Decades of War in Afghanistan, published by Chelsea Green Publishing, is packed with factual information, yet reads like a fast-paced novel. As the book unfolds, Girardet draws intimate portraits of resistance leaders, spies, western military officials, donors, aid organizations, and the myriad other new game players at work in Afghanistan.
Among the Afghan Mujahideen resistance fighters, Ahmad Shah Massoud and his Northern Alliance are described sympathetically as the faction most concerned with regaining the country's independence. The other major resistance leader, Gulbuddin Hekmatyar, founder and leader of the Hezb-e-Islami political party and paramilitary group, is shown to be an opportunistic criminal who had become a master at playing one side against the other.
The book describes in some depth the roles and follies of Pakistan's Inter-Services Intelligence (ISI), the Central Intelligence Agency (CIA), and the Arabs who adopted Afghanistan for their personal jihad. In weaving the story, Girardet gives us a compelling account of the intrigues, double gaming, and political maneuvering that have become the stuff of modern spy novels. In this case, however, the players and the events are real, and the ones who have suffered most have been ordinary Afghans. One hair-raising passage depicts Girardet's meeting with Osama bin Laden and then goes on to chronicle Arab involvement in Afghanistan.
In a hard-hitting final chapter entitled "The Great Pretend Game," Girardet exposes the enterprising side of war in Afghanistan. He paints a sobering picture of embassy officials who rarely venture outside of their compounds, a security contractor community that manipulates fear to ensure continuing work, development contractors whose primary motive is profit, and a growing number of Afghan entrepreneurs who benefit from the instability that accompanies this long war.
Going forward, Girardet lists his recommendations for international involvement in Afghanistan. These include a reduction in military force, reduced reliance on security contractors, and a willingness among aid and embassy officials to meet with ordinary Afghans in order to gain an understanding of the country's complex social fabric. Girardet writes that Afghanistan has never been and never will be a centralized state, and as such, recovery efforts should be focused at the provincial and district levels. Emphasis needs to be placed on building essential infrastructure, agriculture, private investment, education, and health.
Girardet has reserved his sympathy for average Afghans who want nothing more than an end to conflict and a chance to lead more normal lives. Change for them, including the country's oppressed women, will come through trade, investment, education, and access to health care – and not from the barrel of a gun. Underlying everything in Girardet's book is the need for Afghans to somehow rise above ethnic, tribal, and family differences to take control of their country and find their own way.
Edward Anderson is a governance specialist who has spent more than 30 years living and working in Asia. He is currently The Asia Foundation's senior management advisor to the Performance Based Governance Fund (PBGF) in Kabul. The views and opinions expressed here are those of the individual author and not those of The Asia Foundation.
About our blog, InAsia
InAsia
is a weekly in-depth, in-country resource for readers who want to stay abreast of significant events and issues shaping Asia's development, hosted by
The Asia Foundation
. Drawing on the first-hand insight of over 70 renowned experts in over 20 countries,
InAsia
delivers concentrated analysis on issues affecting each region of Asia, as well as Foundation-produced reports and polls.
InAsia
is posted and distributed every other Wednesday evening, Pacific Time. If you have any questions, please send an email to
[email protected]
.
Contact
For questions about
InAsia
, or for our cross-post and re-use policy, please send an email to
[email protected]
.
The Asia Foundation
465 California St., 9th Floor
San Francisco, CA 94104
Mailing Address:
PO Box 193223
San Francisco, CA 94119-3223
2020 Annual Report
Addressing the global crisis