Q&A: Nepal Library Director Discusses Nation's Literacy Challenges
September 7, 2011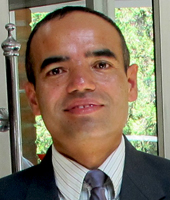 As the world celebrates International Literacy Day on September 8, The Asia Foundation's Books for Asia officer in Nepal, Shameera Shrestha, caught up with the director of the American Library at the U.S. Embassy of Kathmandu, Prakash Thapa, on where he sees the future of Nepal's library system and challenges the nation faces to battle illiteracy.
Just over half of Nepal's population is literate, with women lagging behind men. As a librarian, what do you see as Nepal's biggest challenges in its fight against illiteracy?
Poverty is an enormous challenge here – Nepal is one of the world's poorest countries with 70 percent of its 29.5 million residents living in poverty. Limited access to schools and good libraries are also major problems. That's why it's critical that we focus on establishing well-stocked libraries and schools in every corner of the country. Libraries can play an important role because libraries are open to anyone who wants access to information. Through libraries, people can empower themselves. And, libraries don't have to be large: there are many examples here of villagers in rural areas learning how to read and write at very small "basket libraries," which are small mobile community libraries run by local groups.
What is the current status of public libraries there?
There are about 1,200 public libraries across Nepal. In fact, most of them are in rural areas. But, most of the libraries in the rural areas do not have enough resources. For example, some libraries have only newspapers, and even then, the newspapers they have are often over a week old. Though the number of public libraries might seem high, the conditions of the libraries are miserable compared to public libraries in developed countries. Unfortunately, the government does not provide enough regular funds to support these libraries, so improving these conditions has been challenging. Also, because of Nepal's rugged and remote terrain, many areas are simply very difficult to access, and getting books and materials to these far flung locations is arduous and time-consuming.
How did you come to be a librarian?
Right after high school, I enrolled in the American Language Center at the American Library in Kathmandu. That was the first opportunity I had to spend a lot of time at the American Library, or any library for that matter. Back then, the American Library was one of the few libraries in the capital. Around that time in 1986, I had the opportunity to work at the library part time, and my time there inspired me to get a degree in library science so I could become a librarian at American Library.  
In what ways have you seen Nepal's library system change over time?
I've recently witnessed what an important role technology can play in distributing information more widely. For example, I see more and more small libraries making information such as books and training materials available digitally. But, in Nepal, only 20 percent of the population has access to the internet. As the government works to build the internet infrastructure throughout the country, we will then be able to share more information digitally, and therefore reach thousands more people.
What do you see as the role of libraries in shaping Nepal's future?
In the absence of a good education system and universal access to schools and colleges in Nepal, establishing libraries in different corners of the country can play a vital role in educating its population. But, being a developing country, Nepal lacks a sufficient library network and infrastructure. In a situation where the national and local governments are still not investing enough into libraries, it will be up to the general public and private bodies to initiate a library movement in Nepal. For example, the U.S. Embassy in Kathmandu has established six "American Corners," which are libraries run by the American Embassy Kathmandu in partnership with local institutions and the bulk of the books have been provided by The Asia Foundation's Books for Asia program here. These centers have been around since 2004 and serve 3 million people, while the American Library, established in 1952, serves 3.4 million people in Kathmandu valley and surrounding towns.
I am optimistic about of the future of libraries and the culture of reading in Nepal. Without libraries, the education system in this country will not improve. The government, local organizations and NGOs, INGOs, and community leaders will need to come together to make this happen.
On September 1, Nepal celebrated its 4th Library Day, and The Asia Foundation donated 840 books on library management to 30 different public libraries throughout the country.  Read more about The Asia Foundation's Books for Asia program in Nepal.
About our blog, InAsia
InAsia
is a bi-weekly in-depth, in-country resource for readers who want to stay abreast of significant events and issues shaping Asia's development, hosted by
The Asia Foundation
. Drawing on the first-hand insight of renowned experts,
InAsia
delivers concentrated analysis on issues affecting each region of Asia, as well as Foundation-produced reports and polls.
InAsia
is posted and distributed every other Wednesday evening, Pacific Time. If you have any questions, please send an email to
[email protected]
.
Contact
For questions about
InAsia
, or for our cross-post and re-use policy, please send an email to
[email protected]
.
The Asia Foundation
465 California St., 9th Floor
San Francisco, CA 94104
Mailing Address:
PO Box 193223
San Francisco, CA 94119-3223
2022 Impact Report
Thank you for powering The Asia Foundation's mission to improve lives and expand opportunities.