EVENT: Asia Foundation Hosts Australia's Foreign Minister Kevin M. Rudd
September 14, 2011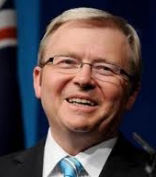 On September 15, The Asia Foundation will host the Honorable Kevin M. Rudd, Australian Minister for Foreign Affairs for a private talk and reception following his Australia-United States Ministerial (AUSMIN) meetings in San Francisco. In those meetings, Mr. Rudd will be discussing global and regional security challenges with Secretary of State Hillary Clinton and Secretary of Defense Leon Panetta. The evening's talk, also hosted by the World Affairs Council of Northern California, will include a Q&A moderated by Asia Foundation President David D. Arnold. Australia and The Asia Foundation are strategic development partners committed to delivering aid and security in the Asia-Pacific.
Below is a brief preview of Mr. Rudd's remarks:
As economic weight shifts to Asia's emerging giants, the role that the United States plays in our region is only becoming more important. Despite the financial troubles faced by the United States since 2008, America remains the critical economic, military, technological, and political superpower. Asia's growing strategic importance makes it imperative to intensify focus on the Asia-Pacific and the Indian Ocean to ensure global stability. With other regional partners, Australia and the United States must work together to build regional security through mechanisms like the East Asia Summit.
About our blog, In Asia
In Asia
is a weekly in-depth, in-country resource for readers who want to stay abreast of significant events and issues shaping Asia\'s development, hosted by
The Asia Foundation
. Drawing on the first-hand insight of over 70 renowned experts in over 20 countries,
In Asia
delivers concentrated analysis on issues affecting each region of Asia, as well as Foundation-produced reports and polls.
In Asia
is posted and distributed every Wednesday evening, Pacific Time and is accessible via email and RSS. If you have any questions, please send an email to
editor.inasia@asiafoundation.org
.
Subscribe
Contact
For questions about
In Asia
, or for our cross-post and re-use policy, please send an email to
editor.inasia@asiafoundation.org
.
The Asia Foundation
465 California St., 9th Floor
San Francisco, CA 94104
Mailing Address:
PO Box 193223
San Francisco, CA 94119-3223