Asia Foundation Hosts Ambassador Teresita C. Schaffer to Speak on U.S.-Pakistan Relations
September 21, 2011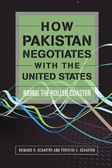 On Monday, September 26, The Asia Foundation will host preeminent South Asia expert, former U.S. Ambassador to Sri Lanka, and former deputy assistant secretary of state for South Asian affairs, Teresita C. Schaffer, for a conversation on the topic of her new book, How Pakistan Negotiates with the United States: Riding the Roller Coaster, at the Foundation's headquarters in San Francisco. Ambassador Schaffer will reflect on the themes and styles that have characterized Pakistani negotiations with American civilian and military officials in recent times, both during the high points of close cooperation and the low points of deep bilateral estrangement. She will also explore the backlash and increased stress and volatility in the U.S.-Pakistan relationship since the capture of Osama bin Laden.
Ambassador Schaffer, an Asia Foundation trustee, writes frequently about Pakistan-U.S. relations on her website, South Asia Hand. She was recently interviewed on DAWN.com.
Read more or RSVP to the event, held in cooperation with the Pacific Council on International Policy.
About our blog, InAsia
InAsia
is a bi-weekly in-depth, in-country resource for readers who want to stay abreast of significant events and issues shaping Asia's development, hosted by
The Asia Foundation
. Drawing on the first-hand insight of renowned experts,
InAsia
delivers concentrated analysis on issues affecting each region of Asia, as well as Foundation-produced reports and polls.
InAsia
is posted and distributed every other Wednesday evening, Pacific Time. If you have any questions, please send an email to
[email protected]
.
Contact
For questions about
InAsia
, or for our cross-post and re-use policy, please send an email to
[email protected]
.
The Asia Foundation
465 California St., 9th Floor
San Francisco, CA 94104
Mailing Address:
PO Box 193223
San Francisco, CA 94119-3223
Change Starts Here Campaign Impact
Thank you for powering The Asia Foundation's mission to improve lives and expand opportunities.