New Paper Examines Political Party Assistance in Developing Democracies
October 5, 2011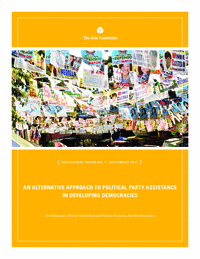 In a just-released paper, The Asia Foundation's director for Elections and Political Processes, Tim Meisburger, examines the changing role of politics in development to find more effective approaches to supporting the development of democratic political parties – one of the priority challenges facing democracy assistance providers today. This paper, the seventh in the Foundation's "Occasional Paper" series was researched and written while Meisburger was on a World Learning Democracy Fellowship at USAID/DCHA/DRG. Below is an excerpt from the paper:
Often in countries where people feel that democracy has failed to deliver on its promises, the public perception of parties and politicians is extremely negative. Parties and representatives that should be serving the people are – with few exceptions – perceived as ineffectual, self-serving or corrupt. Rather than helping the people achieve their aspirations, parties are seen as standing in the way of their achievement. Parties are perceived as the problem, not the solution.
Growing awareness in the democracy assistance community of this pathology led to the recognition that for democratization to be successful more attention and assistance should be directed to improving political parties. Of course, international assistance for political parties is not new. Although never a very high priority, it has been provided in one form or another for several decades by European and American aid agencies and party institutes. And there is no doubt that some party assistance had been highly useful and effective in some cases; in others it has been perceived as either ineffectual, or tangential to actual priorities for democratization.
About our blog, InAsia
InAsia
is a bi-weekly in-depth, in-country resource for readers who want to stay abreast of significant events and issues shaping Asia's development, hosted by
The Asia Foundation
. Drawing on the first-hand insight of renowned experts,
InAsia
delivers concentrated analysis on issues affecting each region of Asia, as well as Foundation-produced reports and polls.
InAsia
is posted and distributed every other Wednesday evening, Pacific Time. If you have any questions, please send an email to
[email protected]
.
Contact
For questions about
InAsia
, or for our cross-post and re-use policy, please send an email to
[email protected]
.
The Asia Foundation
465 California St., 9th Floor
San Francisco, CA 94104
Mailing Address:
PO Box 193223
San Francisco, CA 94119-3223
2022 Impact Report
Thank you for powering The Asia Foundation's mission to improve lives and expand opportunities.