Cleaning up Nepal's Kathmandu Valley
October 12, 2011
Garbage left in streets and along riverbanks is a significant problem in Nepal and poses extreme health hazards to residents. Exasperated by this unsanitary "free disposal" system of waste, in 1992, 16 bold women from the Kathmandu Valley formed the country's first NGO to address waste management. Women Environment Preservation Committee (WEPCO) set out to create a new system to dispose of and manage solid waste in their neighborhood in Lalitpur District, located at the southwest bank of the Bagmati River. Thanks to their efforts, the old and unsanitary system of throwing waste on streets was abolished in Lalitpur, and WEPCO now manages waste from the 1,800 households there. Since then, WEPCO has been at the forefront of environmental protection and waste reduction in Kathmandu, encouraging a new generation to play an active role in local environmental issues. In this new slideshow, WEPCO members talk about their work, successes, and challenges.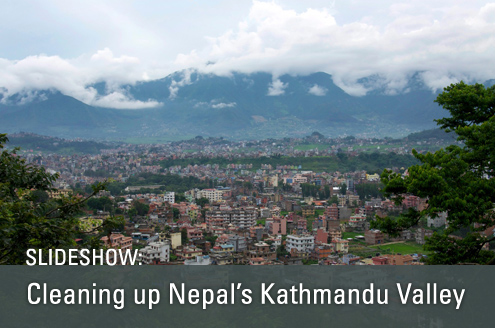 About our blog, InAsia
InAsia
is a bi-weekly in-depth, in-country resource for readers who want to stay abreast of significant events and issues shaping Asia's development, hosted by
The Asia Foundation
. Drawing on the first-hand insight of renowned experts,
InAsia
delivers concentrated analysis on issues affecting each region of Asia, as well as Foundation-produced reports and polls.
InAsia
is posted and distributed every other Wednesday evening, Pacific Time. If you have any questions, please send an email to
[email protected]
.
Contact
For questions about
InAsia
, or for our cross-post and re-use policy, please send an email to
[email protected]
.
The Asia Foundation
465 California St., 9th Floor
San Francisco, CA 94104
Mailing Address:
PO Box 193223
San Francisco, CA 94119-3223
Change Starts Here Campaign Impact
Thank you for powering The Asia Foundation's mission to improve lives and expand opportunities.