Cheng Siwei to Address China's Growth at Commonwealth Club, Harvard, and Brookings
October 19, 2011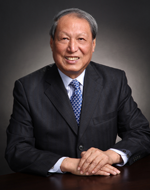 The Asia Foundation awarded its prestigious Chang-Lin Tien Distinguished Visiting Fellow Award to leading Chinese economist Cheng Siwei, and has arranged a series of high-level exchanges across the United States on China's economic growth and challenges ahead. As former vice chair of the Standing Committee of the National People's Congress, Cheng has played a key role in his country's economic transformation over the last 20 years. As the concurrent chair of the International Finance Forum, Beijing, and president of the Association of Management Modernization, China, Cheng is intimately acquainted with a range of domestic and global economic issues confronting China today.
On October 20, Cheng will speak at San Francisco's Commonwealth Club on challenges to rebalancing China's economy. He continues to Silicon Valley to meet with William Perry, former secretary of defense, and Stanford University faculty and students. Cheng will also present at the Fletcher School of Law and Diplomacy at Tufts University, the World Affairs Council in Boston, Harvard University, and the Brookings Institution in Washington, D.C., among others.
On October 25, he will join Arianna Huffington, Twitter co-founder Biz Stone, economist Niall Ferguson, George W. Bush, former U.S. senate majority leader Tom Daschle, journalist Katie Couric, and others as a featured speaker at the 2011 Global Financial Leadership Conference in Naples, Florida.
The Chang-Lin Tien Distinguished Visiting Fellow Award is named for the late Dr. Chang-Lin Tien, renowned thermal scientist, chancellor of the University of California, Berkeley, and chairman of The Asia Foundation Board of Trustees.
Stay tuned for an exclusive interview in next week's In Asia with Mr. Cheng.
About our blog, InAsia
InAsia
is a bi-weekly in-depth, in-country resource for readers who want to stay abreast of significant events and issues shaping Asia's development, hosted by
The Asia Foundation
. Drawing on the first-hand insight of renowned experts,
InAsia
delivers concentrated analysis on issues affecting each region of Asia, as well as Foundation-produced reports and polls.
InAsia
is posted and distributed every other Wednesday evening, Pacific Time. If you have any questions, please send an email to
[email protected]
.
Contact
For questions about
InAsia
, or for our cross-post and re-use policy, please send an email to
[email protected]
.
The Asia Foundation
465 California St., 9th Floor
San Francisco, CA 94104
Mailing Address:
PO Box 193223
San Francisco, CA 94119-3223
Change Starts Here Campaign Impact
Thank you for powering The Asia Foundation's mission to improve lives and expand opportunities.