Economist Cheng Siwei on China's Growth, Europe's Crisis, Occupy Wall Street, and Steve Jobs
October 26, 2011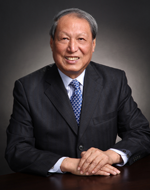 Last week, In Asia's editor, Alma Freeman, sat down with leading Chinese economist, Cheng Siwei, in San Francisco at the start of a series of high-level presentations he delivered across the United States on China's economic growth and challenges ahead. Mr. Cheng, former vice chair of the Standing Committee of the National People's Congress, is the recipient of the Foundation's prestigious Chang-Lin Tien Distinguished Visiting Fellow Award and has played a key role in his country's economic transformation over the last 20 years.
As one of China's most noted economists, you've been on the forefront of the nation's rapid economic transformation from a largely agrarian economy to an urban society with a highly skilled labor force in manufacturing, and increasingly in the high-tech industry. What do you think accounts for this transformation?
In the past, China mainly relied on investment and exports for economic growth. But this pattern is no longer sustainable. China must rely more on domestic consumption, and to do that, we must raise the purchasing power of the people – that's the most important thing. Because labor costs are going up, we will also have to upgrade our industrial structure. As this happens, some labor-intensive industries will move from the coastal area to the west, and even from China to other Asian countries. It's natural that as labor costs go up, along with our economic growth, we will have to raise people's purchasing power by paying people higher salaries.
The purchasing power of China's urban residents is four times more than the people in the countryside. What concerns do you have about the divide between China's rural and urban citizens? What is being done to narrow this gap?
This is what we call a dual economic structure. The development of China's urban and rural areas happened very differently. After the establishment of new China, this difference still exists. The income of an urban resident is three times higher than a rural resident, and the purchasing power is four times higher than the rural area. We need to fill this gap. To do this, we gave some tax exemptions and reductions for rural people. We will also transfer more labor from the rural to urban areas. This is a natural process of organization. Now, our urban residents make up 48 percent of the population. Our goal is to reach 70 percent. Each year we raise this figure by 1 percent.
What are some of China's urbanization challenges, including service provision and population growth in cities?
Our population growth rate is much lower than India and other developing countries because we have family planning. When we transfer labor from rural to urban areas, we need to provide jobs, social security, housing, and education for children. We want to move labor from rural to urban areas in a reasonable, orderly way. When I look at Mexico City and Rio de Janeiro, for example, there are many poor people in these urban areas, and people don't necessarily have jobs and that's not good. That's why we are transferring labor jobs and providing the necessary support at the same time.
What types of jobs is China providing in the cities?
Manufacturing, but also construction jobs are important. Construction is booming in China – one fifth of the cranes in the world are in China. And, construction provides a lot of labor jobs. We are also providing more jobs in the service industry.
As the United States and Europe still struggle to recover from the debt crisis, it has been said that the trajectory of the Chinese economy in the next 18 months will be reliant on the trajectory of European growth. How would China respond to a deepening financial crisis?  
In my opinion, the European debt crisis is caused from over-borrowing by some countries. In Paris last year, I gave a speech where I said: "to save or not to save, this is the question." I think the European Union will save and the reason is that because if they don't, the EU will break. In this case, the northern countries like Germany will also lose because their internal trade is much higher than their external trade. Greece is not the biggest problem because its GDP is only 2 percent, but if the larger economies like Italy and Spain have a problem, it becomes more serious. China would certainly like to see the EU solve their problems by themselves. No one can bail them out because they are too big. But we would like to try our best to help them. Last year our bilateral trade with the EU continued to increase. We also bought government bonds, but certainly we have to be careful of the risk. If the unified Eurobond is issued, that should be a lower risk because it would be backed by Germany and France. But they must mainly rely on themselves, as no one can bail them out – not even the United States.
China's Foreign Ministry said last week that global protests sparked by the Occupy Wall Street movement in the United States were a cause for "reflection," but the reflection should be focused on ensuring the world's healthy economic growth. What are your thoughts on this?
I think the people are complaining because they are not satisfied with the status quo. If you look at the occupiers, different people have different claims, but mainly, I think they are not satisfied economically and politically. Because of the financial crisis, the unemployment rate is still high, and their real income is reducing. Also, the Wall Street employees still get high salaries, so the others are not satisfied. Politically, Republicans and Democrats are "gaming" instead of looking at the national benefit. In my opinion, it seems like a spontaneous movement, without a very distinct target. This is also a warning for the Western countries that they have to pay more attention to the people's voice, to listen to them.
Are China's citizens satisfied?
Well, I think according to some statistics that most of them are satisfied because their income is growing, although the average is still much lower than the income of Americans. Last year, the income average grew by 9.8 percent for rural residents and 8.5 percent for urban. As long as people's income continues to grow, they should be satisfied. However, in China, some poor people still live with very low incomes, so they may have some dissatisfaction. But I don't think they would use the same measure as the Occupy Wall Street people.
Why not?
China is a well-organized society. It's usually very difficult to have this kind of movement. I think we will digest the contradictions through negotiation and dialogue instead of protest.
China's recent investment in renewable energy technology has attracted worldwide attention – particularly in the United States where similar efforts have stalled due to economic woes. As an expert in green economy, what are some of the biggest advances, and challenges, that China has made in this area?
A green economy is a must for China because we are a developing country, and we cannot just follow the development paths of the Western countries. Along with the U.S., China is the largest C02 emitter, and so we have to pay more attention to the environmental costs that have come along with our economic growth. According to my research, in 2005, China's environmental cost from low energy efficiency, pollution, and damage of the eco system equals 13.5 percent of GDP. That year our GDP only increased by 10.4 percent. That means we will leave the environmental debts to our children and grandchildren. That cannot be sustained. However, China is still a developing country so we still need to develop. But we also need to reduce energy consumption. Our economic structure is built around manufacturing, unlike developing countries where the service industry, which emits much less C02, is a major part of the economy. Ninety percent of our energy consumption relies on fossil energy, which is why China is paying a lot of attention to developing new energy. By the year 2020, we will invest 5 trillion RMB in new energy and would like to reduce fossil energy consumption from 90 to 85 percent. In the last three years, our investment in new energy has grown by 40 percent. Our hydropower is now around 200 million kilowatts. But by 2020, it will be 300 kilowatts. Our wind power is now a little more that 20 million, and by 2020, it will be 120 million. Our solar is 6 million, and we will have 30 million by 2020. Nuclear is around 10 million. Originally we planned to have 60-70 million, but because of the accident in Japan, we are reconsidering our development plan for nuclear investment. But it still needs to grow.
What impact will the spending habits of China's growing middle and upper class have on the economy and society as a whole?
Our standards for middle and upper class are different than in the U.S. because of the income difference, obviously. But generally speaking, for any society to remain stable, it needs a big middle-income class. In China, we are moving toward this direction, and the middle class is growing, and this will help with social stability. We have some people who are rich, and they have the desire to spend their money on very expensive goods or travel abroad. I've heard that many of the companies that make expensive products and famous brands have great expectations for this market in China. That's natural, and we need to be able to satisfy the demand of different classes.
Will there be a Chinese Steve Jobs?
Steve Jobs is a genius, so it's hard to say if China will have one or not. But China is really encouraging innovation, so maybe some "sub-Steve Jobs" will emerge from China!
About our blog, InAsia
InAsia
is a bi-weekly in-depth, in-country resource for readers who want to stay abreast of significant events and issues shaping Asia's development, hosted by
The Asia Foundation
. Drawing on the first-hand insight of renowned experts,
InAsia
delivers concentrated analysis on issues affecting each region of Asia, as well as Foundation-produced reports and polls.
InAsia
is posted and distributed every other Wednesday evening, Pacific Time. If you have any questions, please send an email to
[email protected]
.
Contact
For questions about
InAsia
, or for our cross-post and re-use policy, please send an email to
[email protected]
.
The Asia Foundation
465 California St., 9th Floor
San Francisco, CA 94104
Mailing Address:
PO Box 193223
San Francisco, CA 94119-3223
Change Starts Here Campaign Impact
Thank you for powering The Asia Foundation's mission to improve lives and expand opportunities.