"Afghanistan in 2011: A Survey of the Afghan People" Releases In Kabul, Washington, New York, and London
Event: November 15-22, 2011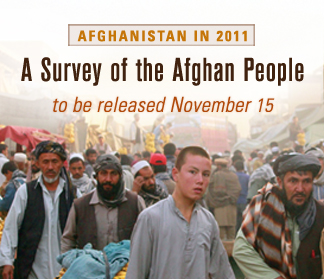 On November 15, The Asia Foundation will release findings from "Afghanistan in 2011: A Survey of the Afghan People" – the broadest and most comprehensive public opinion poll in the country covering all 34 provinces. Candid, first-hand data was gleaned from face-to-face interviews with 6,300 Afghan citizens on a variety of contemporary issues, including security, corruption, women's rights, the economy, development, and the Taliban. Survey launch events are scheduled for November 15 in Kabul, and in Washington, D.C. at the U.S. Institute of Peace, November 18 in New York, and November 22 in London.
Join The Asia Foundation's president, David D. Arnold, along with our experts Sunil Pillai, George Varughese, and Sheilagh Henry for panel discussions in Washington, D.C. and New York. V. Bruce J. Tolentino, country representative in Afghanistan, Tariq Osman, Fazel Rabi Haqbeen and Najla Ayubi will lead the presentation in Kabul.
This marks the seventh in the Foundation's series of surveys in Afghanistan; taken together, the surveys provide a barometer of Afghan public opinion over time. The findings help inform leaders, scholars, and the policymaking community focused on the region. The survey is an independent product of the Foundation, with funding support provided by the U.S. Agency for International Development (USAID).
The complete survey report will be available at https://asiafoundation.org/ag2011poll. Please also visit our website for a summary of key findings, frequently asked questions (FAQs), multimedia offerings. We welcome you to interact with us on Facebook at: http://www.facebook.com/AsiaFoundation and on Twitter at: @Asia_Foundation.
Find out more about the Foundation's work in Afghanistan and review findings from past Afghan surveys.
Members of the press please inquire to Eelynn Sim at 415-743-3318 or esim@asiafound.org
2019 Lotus Leadership Awards Gala
Wednesday, April 3, 2019, New York City
Honoring award-winning journalist Christiane Amanpour and social enterprise SafetiPin
2019 Lotus Leadership Awards Gala
Wednesday, April 3, 2019, New York City