Asia Foundation to Release Latest Survey of the Afghan People on November 15
November 9, 2011
On November 15, The Asia Foundation will release findings from "Afghanistan in 2011: A Survey of the Afghan People" – the broadest and most comprehensive public opinion poll in the country covering all 34 provinces. Candid, first-hand data was gleaned from face-to-face interviews with more than 6,300 Afghan citizens on a variety of contemporary issues, including security, corruption, women's rights, the economy, development, and the Taliban. Survey launch events are scheduled for November 15 in Kabul, and in Washington, D.C., at the U.S. Institute of Peace, on November 18 in New York, and November 22 in London.
Stay tuned for next week's In Asia, where we'll be featuring analysis of key survey findings from The Asia Foundation's country representative in Afghanistan, Bruce J. Tolentino, and survey authors Mohammad Osman Tariq, Najla Ayoubi, and Fazel Rabi Haqbeen.
This brand-new slideshow captures some of the 6,348 interviews as they took place, with pollsters traveling long, arduous distances to survey community members across all 34 diverse provinces.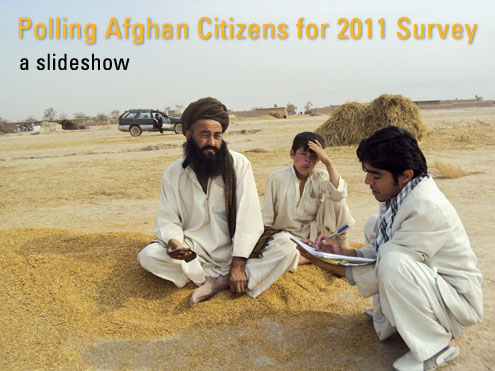 About our blog, In Asia
In Asia
is a weekly in-depth, in-country resource for readers who want to stay abreast of significant events and issues shaping Asia\'s development, hosted by
The Asia Foundation
. Drawing on the first-hand insight of over 70 renowned experts in over 20 countries,
In Asia
delivers concentrated analysis on issues affecting each region of Asia, as well as Foundation-produced reports and polls.
In Asia
is posted and distributed every Wednesday evening, Pacific Time and is accessible via email and RSS. If you have any questions, please send an email to
editor.inasia@asiafoundation.org
.
Subscribe
Contact
For questions about
In Asia
, or for our cross-post and re-use policy, please send an email to
editor.inasia@asiafoundation.org
.
The Asia Foundation
465 California St., 9th Floor
San Francisco, CA 94104
Mailing Address:
PO Box 193223
San Francisco, CA 94119-3223