Q&A: Survey Findings Reveal Ongoing Challenges for Afghan Women
November 16, 2011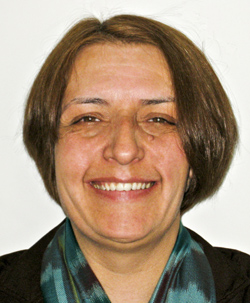 In Asia's editor, Alma Freeman, interviewed 2011 Survey of the Afghan People co-author and former Asia Foundation program director for Law, Human Rights, and Women's Empowerment in Kabul, Najla Ayubi, for her reaction to the findings of The Asia Foundation's 2011 Survey and what they might mean for women's rights, peace talks, and more. Ayubi is currently the Afghanistan country director for the Open Society Foundation.
As a survey author, what surprised you most about this year's findings?
The high support for peace and reconciliation was a very surprising and important finding in this year's survey. It's surprising to see that 82 percent of the people support peace and reconciliation, which has interesting implications for the peace process. I also found it surprising that 74 percent of the respondents said they have confidence in religious leaders and 70 percent of respondents say that religious leaders should be consulted on problems facing an area. Also, 46 percent say that the country is going in the right direction, and only 35 percent say it is going in the wrong direction. That's positive news, but since last year, the percentage of people who think the country is going in the wrong direction has increased by 8 percent. In 2009, that figure was 29 percent. To me, this reveals an unstable attitude of the people on whether their country is moving in the right direction.
Women respondents report lower levels of support than men for reconciliation with armed opposition groups. What do you make of this?
Women have been marginalized by the Taliban and other armed opposition groups for decades. That's why woman don't have much empathy for the armed opposition groups, and are not as supportive as men for the so called peace and reconciliation process which is going on with the government. In many cases, they feel they won't get any benefit from this type of negotiation – specifically, they worry their rights will be compromised, and for me as an Afghan woman, I'm also afraid that my rights will be compromised during these peace talks. Two of the biggest issues that affect women's lives here are the lack of freedom of movement to work outside of the home and access to education. In the current peace talks, how this will be factored in is totally up in the air. It's very clear that women support peace, but not the kind of approach that risks compromising their rights.
Also, women are only symbolically part of the peace talks: some women have been put in high-level positions, like at the High Peace Council or at the local, provincial level in peace talk committees, but they aren't able to actually represent women's voices and interests there. For example, some of the women representatives in the High Peace Council have said that in many cases when there is a peace talk trip inside of the country, they are not allowed to be part of the delegation. The male representatives say that due to the security situation, women aren't able to come. But this makes me ask, if the security is a problem for women, why is it not a problem for men? If the men can go and be protected by security forces, then why can't the same be done for women? It's more of a stereotype or patriarchal thinking that women are not eligible to be in peace talks rather than anything having to do with their ability.
Respondents report the highest level of satisfaction with the availability of education for children, with almost three quarters (73%) saying this is quite good or very good in their local area. Yet, education and illiteracy (25%) remain the major problems facing women in Afghanistan. Why do you think this is the case?
The percentage of newly enrolled girls in schools has increased to more than 38 percent of total children enrolled in the past three or four years. But, when your compare this to boys, at 62 percent newly enrolled, the balance is just not there. Out of a population of 6 million, there are more than 2 million girls attending school. Which, when compared with the Taliban era,  is certainly an improvement, but this is not enough. When it comes to improvement in education overall, boys have benefited more than girls, which is one reason why education is cited as a bigger problem for women than it is for men.
Although girls' enrollment is higher now at the primary school level, as you approach 12th grade, that drops significantly. This is in part due to a lack of trained female teachers, and the families aren't letting the girls go and study under male teachers. If there are no female teachers in one village, the family will definitely not let their girls travel to another village because of security concerns.
Also, if you aren't married in Afghanistan, that's seen as a problem. If you aren't letting your girls go get married, this will be a shame for your family. Finally, Afghans typically have very large families, from four to sometimes 12 children, even 15. How can they feed their families with only one male in the household working while the rest of the family is spending? Many families decide to just let their girls get married instead of go to school because they don't have enough resources to feed them.
What kinds of improvements have been made in terms of access to education for girls?
I think the most important improvement is the increase in private schools and private universities, specifically in urban areas. Often funded by foreign institutions, these schools offer an opportunity for girls to attend who might not otherwise be able to attend public schools or universities. Also, in the past few years, the government has started teacher training courses for female teachers. We now have teacher training centers in each province – we didn't have this earlier, even before the civil war. These are victories for education in Afghanistan.
Are you nervous that the peace progress could reverse this progress?
I think it was a mistake that the Taliban were not part of the negotiations at the Bonn conference in 2001 in the first place. Now, there are rumors that the judiciary will be given to the Taliban. How can women's rights be protected if the judiciary is in the hands of the Taliban, who believe that women should not be part of daily life, part of development and improvement of the country, or part of the prosperity of the country? Ever since the announcement of the withdrawal of international troops from Afghanistan, we observe that even the international communities are not taking women's issues seriously. What could be expected from the Taliban? This is my concern, but hopefully this will not be the reality.
In many of the findings, the opinions of Afghanistan's rural and urban women and men differ, in some cases drastically. Can you discuss why this is?
Just under two-thirds of respondents say women should be allowed to work outside the home, while just over one-third say they should not. Survey findings show that there is a significant difference between men and women's attitudes in this regard. More than three quarters of female respondents (79%) say women should be allowed to work outside the home compared with just half (50%) of men who think so. Likewise, significantly more urban respondents agree with the statement (77%) than do their rural counterparts (58%)
Afghanistan's urban residents have far greater access to information, not only from the media, but also to the internet, gatherings, and events happening at the national level. People in rural areas, on the other hand, have less awareness of what's going on at the national level, and this is particularly true for women. In many cases, because of their limited access to information and lack of ability to move freely in public spaces, women are not part of the development projects and have less awareness about projects in their area. These are things that affect a woman's life, and will continue to do so.
The views and opinions expressed here are those of the individual and not those of The Asia Foundation.
About our blog, InAsia
InAsia
is a weekly in-depth, in-country resource for readers who want to stay abreast of significant events and issues shaping Asia's development, hosted by
The Asia Foundation
. Drawing on the first-hand insight of over 70 renowned experts in over 20 countries,
InAsia
delivers concentrated analysis on issues affecting each region of Asia, as well as Foundation-produced reports and polls.
InAsia
is posted and distributed every other Wednesday evening, Pacific Time. If you have any questions, please send an email to
editor.inasia@asiafoundation.org
.
Contact
For questions about
InAsia
, or for our cross-post and re-use policy, please send an email to
editor.inasia@asiafoundation.org
.
The Asia Foundation
465 California St., 9th Floor
San Francisco, CA 94104
Mailing Address:
PO Box 193223
San Francisco, CA 94119-3223