Asia Foundation Hosts Australia's Foreign Minister in San Francisco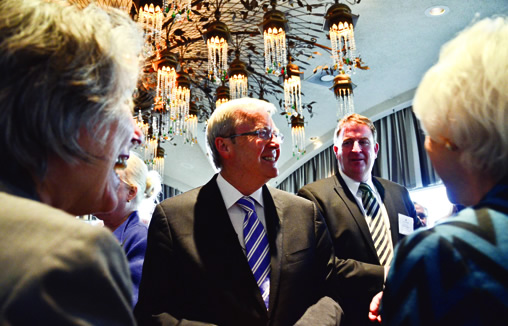 Australian Foreign Minister Kevin Rudd, speaking at a well-attended event in San Francisco's Fairmont Hotel in September, said that as the world's economic weight shifts toward Asia, the U.S. role in the region will become more, rather than less, important. The Foreign Minister underscored the importance of U.S. engagement in Asia and praised Australia's growing strategic partnership with The Asia Foundation.
The reception, which The Asia Foundation hosted with the World Affairs Council of Northern California, followed the landmark 60th anniversary Australia-United States Ministerial (AUSMIN) meetings, where Foreign Minister Rudd discussed global and regional security challenges with Secretary of State Hillary Clinton and Defense Secretary Leon Panetta.
"America will remain a key economic partner for Australia for as long as any of us will be around. But we also need to recognize that the global shift in economic weight is real," he said. "The Asia Foundation's goal of a peaceful, prosperous, and open Asia-Pacific has been slowly taking shape over the past decades, as democracy and economic development have spread through the region."
During a lively Q&A following Foreign Minister Rudd's remarks, Asia Foundation President David D. Arnold remarked, "Australia is a regional leader recognized for its unique approach to addressing development and conflict challenges in the Asia-Pacific. The Asia Foundation is similarly deeply engaged in the region, where the stakes are high." He continued, "We strongly believe that the strategic Asia Foundation-Australia partnership has the potential to transform the way we work together across the region, and will contribute to global efforts to improve aid effectiveness."
The Foundation's strategic collaboration with Australia has increased significantly in recent years, primarily with the Department of Foreign Affairs and Trade and the Australian Agency for International Development (AusAID). Since 2004, the Australian government has supported Foundation projects in 11 Asian countries, including Afghanistan, the Philippines, Sri Lanka, Pakistan, and Indonesia, and last year we established a board of directors in Australia governed by a group of distinguished Australian academic and philanthropic leaders.