Multimedia
Visualizing Afghanistan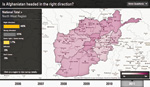 For the first time, as part of the release of our annual survey of the Afghan people, The Asia Foundation unveiled an online interactive data mapping tool called Visualizing Afghanistan. Users can explore key survey questions, map responses by region, compare and analyze national or regional totals on a year-by-year basis using data from the last six of our annual surveys, or expand supplementary data. For more, visit the Afghanistan in 2011 Survey Page.
Books for Asia Marks International Literacy Day 2011 across Asia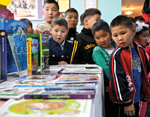 Books for Asia held events across Asia and in the Bay Area, including a book stamping in Afghanistan; reading competitions and student performances in Timor-Leste; and book donation ceremonies at the National Orphanage and Care Center in Mongolia; in Davao City with Kiwanis International in the Philippines; and in Jakarta, Indonesia, with the Community Learning Centers that serve street children. View the slideshow here.
 The Asia Foundation's Scholarship Program for Disadvantaged Girls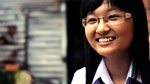 In Vietnam, poor families are often forced to pull their daughters out of school to work when they reach their teens. Unfortunately many migrate in search of employment, only to become vulnerable to exploitation and trafficking. This program provides four-year scholarships to keep girls like Dang Thi Anh Dao in school. Despite being an excellent student, her family's financial situation left it uncertain whether she could continue her studies. Thanks to our generous donors, Dang Thi Anh Dao has been given the opportunity to stay in school. Watch the video here.