New Paper Explores Community Police Development in Timor-Leste
December 14, 2011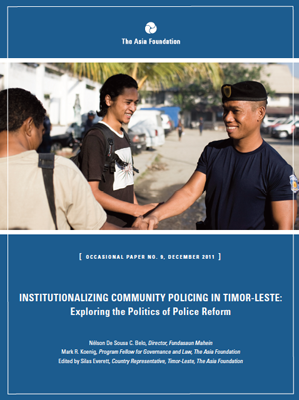 For 24 years until 1999, the police in Timor-Leste were under the command of the Indonesian military, and today, people still hold memories of the fears they felt toward the police and the security forces at that time. A national survey of community police perceptions carried out by The Asia Foundation showed that community police relations have greatly improved since then, and Timor-Leste's political leadership continues to prioritize the need for police reform. Community policing projects have demonstrated the potential for positive impact of community policing initiatives on safety and security in Timor-Leste. Despite this, community policing is not yet seen as a high priority for reform. In this just-released paper, the ninth in The Asia Foundation's "Occasional Paper" series, Nélson De Sousa C. Belo, director of the Fundasaun Mahein, Mark R. Koenig, Asia Foundation program fellow for Governance and Law, and Silas Everett, the Foundation's country representative in Timor-Leste, explore the national-level political aspects of police reform in Timor-Leste and identify limitations and opportunities for improving policing and security in Timor-Leste. Download paper.
About our blog, In Asia
In Asia
is a weekly in-depth, in-country resource for readers who want to stay abreast of significant events and issues shaping Asia\'s development, hosted by
The Asia Foundation
. Drawing on the first-hand insight of over 70 renowned experts in over 20 countries,
In Asia
delivers concentrated analysis on issues affecting each region of Asia, as well as Foundation-produced reports and polls.
In Asia
is posted and distributed every Wednesday evening, Pacific Time and is accessible via email and RSS. If you have any questions, please send an email to
editor.inasia@asiafoundation.org
.
Subscribe
Contact
For questions about
In Asia
, or for our cross-post and re-use policy, please send an email to
editor.inasia@asiafoundation.org
.
The Asia Foundation
465 California St., 9th Floor
San Francisco, CA 94104
Mailing Address:
PO Box 193223
San Francisco, CA 94119-3223