New Paper Explores Community Mediation Research in Nepal
January 11, 2012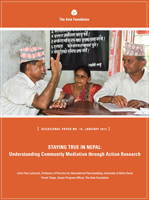 For poor and rural Nepalis, the formal judicial system is of little value and largely inaccessible. With a diverse ethnic and linguistic population, Nepal's different regions and groups have had their own unique and indigenously evolved customs for resolving disputes. Over the past decade, community mediation has emerged and developed in Nepal as a dispute-resolution alternative for local communities for whom the formal legal system could be prohibitively costly and unmanageable. While community mediation today is quite distinct from the older, traditional "councils of elders," it also appears to be different in real-life applications from the descriptions first offered by professional mediators and NGOs.
In this just-released paper, "Staying True in Nepal: Understanding Community Mediation through Action Research," the 10th in The Asia Foundation's "Occasional Paper" series, John Paul Lederach, Professor of International Peacebuilding, University of Notre Dame, and Asia Foundation Senior Program Officer Preeti Thapa explore the use of participatory action research as a method to deepen the practice of mediation at the village level in rural Nepal. The paper looks at how mediation has evolved through practice and as a response to daily conflict during and after the nation's civil war, and includes discussion of how participatory action research has affected the practice of community mediation. Download paper.
About our blog, InAsia
InAsia
is a bi-weekly in-depth, in-country resource for readers who want to stay abreast of significant events and issues shaping Asia's development, hosted by
The Asia Foundation
. Drawing on the first-hand insight of renowned experts,
InAsia
delivers concentrated analysis on issues affecting each region of Asia, as well as Foundation-produced reports and polls.
InAsia
is posted and distributed every other Wednesday evening, Pacific Time. If you have any questions, please send an email to
[email protected]
.
Contact
For questions about
InAsia
, or for our cross-post and re-use policy, please send an email to
[email protected]
.
The Asia Foundation
465 California St., 9th Floor
San Francisco, CA 94104
Mailing Address:
PO Box 193223
San Francisco, CA 94119-3223
Change Starts Here Campaign Impact
Thank you for powering The Asia Foundation's mission to improve lives and expand opportunities.