Consolidating Peace in Sri Lanka
February 1, 2012
Colombo is shedding its image as Sri Lanka's charming but dilapidated capital. Pulsing with new energy and growth, major investments and improvement is palpable since the end of the war. But in the North and East and bordering regions, clashes, attacks, and decades of economic neglect have left a legacy of division and hardship. The government has responded by linking these cities through improved roads, rail, and telecommunications; business owners and local leaders want to catch up with the rest of the island nation. Entrepreneurs and local officials hold the keys to growth and peace in these former conflict-affected towns. This new slideshow series shows how The Asia Foundation is working in Jaffna, Vavuniya, and Batticaloa to spark private sector growth by helping local governments and businesses work together.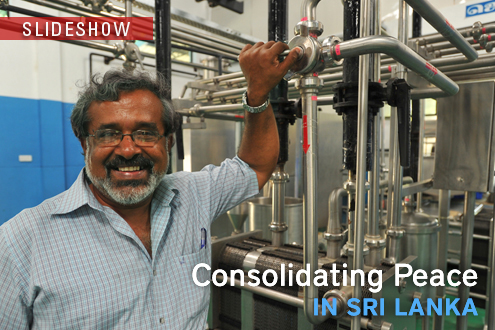 About our blog, InAsia
InAsia
is a weekly in-depth, in-country resource for readers who want to stay abreast of significant events and issues shaping Asia's development, hosted by
The Asia Foundation
. Drawing on the first-hand insight of over 70 renowned experts in over 20 countries,
InAsia
delivers concentrated analysis on issues affecting each region of Asia, as well as Foundation-produced reports and polls.
InAsia
is posted and distributed every other Wednesday evening, Pacific Time. If you have any questions, please send an email to
[email protected]
.
Contact
For questions about
InAsia
, or for our cross-post and re-use policy, please send an email to
[email protected]
.
The Asia Foundation
465 California St., 9th Floor
San Francisco, CA 94104
Mailing Address:
PO Box 193223
San Francisco, CA 94119-3223
Leaders on the Frontlines:
Leaders for a Better World
Tuesday, November 9, 2021, 6PM PT