Without a Say in Indonesia's Budget Decisions, Women's Needs are Left Out
March 7, 2012
Over the past few months, Indonesians have been witnessing a procession of scandalous cases involving female lawmakers accused of bribery, embezzlement of state funds, and shady, back-door political bargaining. Meanwhile, as the negative press around this mounts, local leaders at the district and provincial levels are quietly making a bold difference to women's welfare in their communities by giving them a greater voice in how local budgets are spent and allocated to meet their needs.
Asia Pananrangi is one of these leaders. As the first woman ever to be elected vice chief of the Bone Legislative Council (DPRD) in South Sulawesi, Asia has pushed tirelessly for the inclusion of gender perspectives in public policies and budgeting. As vice-chief of DPRD Bone, she has shown a commitment to improving budget transparency, has helped local villagers to monitor the allocation of state funds, and has managed to reallocate hundreds of thousands of dollars from state budgets to support women and the poor.
The emergence of democracy in Indonesia has dramatically reshaped the way citizens interact with government. Political participation has been embraced by the public, and direct elections are now held across the country. Trends show an increasing number of women elected to national and local parliaments. After the 2009 election, the number of women representatives at the national level increased from 11 to 18 percent, while at the local level, the average percentage of women representatives increased from 5 to 12 percent. However, while people like Asia have greatly contributed to the welfare of women and the poor, in most regions, gender concerns do not feature prominently in the policy-making process. Women remain largely excluded from decision making about the allocation of public funds and spending on services important to women decision makers – including health and poverty – remain underfunded. Care for expectant mothers and infants, for example, is severely underfunded, and consequently Indonesia has among the highest maternal and infant mortality rates in Southeast Asia. Furthermore, experts predict that unless Indonesia's government takes drastic measures, it will not meet its target for access to drinking water set in the Millennium Development Goals. This problem can be attributed to, among other things, the rampant corruption in infrastructure projects such as roadways, irrigation, and clean water.
As part of the early reformasi agenda after the fall of Suharto, the government adopted a policy that required all government agencies – at both the local and national levels – to integrate a gender-inclusive perspective into their programs. Unfortunately, these regulations are rarely enforced or followed properly. Civil society and women's groups in Indonesia have seized on budget advocacy as a strategic entry point to push the government to deliver on its policy promise. As a result, Indonesia now has a vibrant movement of more than 100 organizations demanding transparency and accountability in state budgets, with women's groups at the forefront of demanding that state budgets be used to promote women's equality and improved welfare.
Following years of persistent advocacy, in 2008, Indonesian women's groups successfully got passed a national policy that requires women to be present at government budget planning meetings. But, according to a study conducted by The Asia Foundation last year, less than a quarter of the 42 local governments surveyed had actually implemented specific mechanisms to guarantee women's participation. A few local governments, however, had provided specific avenues for women to meet and discuss development planning and budgeting.
There is a strong reason to ensure that women are included in budget planning. When women in Indonesia have been provided with opportunities to participate in budget development, the impact has been profound. A greater understanding of local government procedures has meant women community members are increasingly speaking up in development planning meetings, demanding campaign promises from their representatives, and questioning programs that do not meet their needs. For instance, a village women's group in West Java, after becoming aware of the funds allocated to their village for their year, rejected a number of government programs that were not in line with their priority needs.
Gender disaggregated data has also received attention as an effective way to give  women's groups and government officials the data they need to assess the impact budget decisions have on men and women. The lack of this type of data poses a further challenge to gender-responsive policy design. While some progress has been made, there is much work still to be done. Across the 42 districts previously mentioned, gender-disaggregated data was only available in about one-third of the districts surveyed, with more data available for education (36 percent) than for health (28 percent). Less than 10 percent of districts who had access to disaggregated data subsequently used it to plan development spending.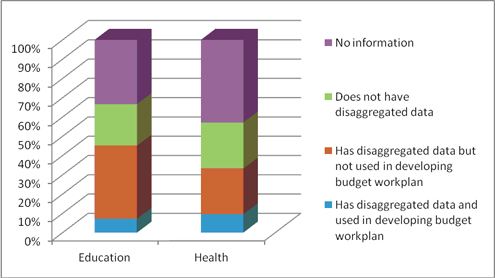 Women leaders like Asia Pananrangi need this data to help make their constituents understand the challenges facing women in their communities. As a representative, Asia needs not only to raise awareness of these challenges among her constituents, but also to build allies in the political arena. She understands that improving the welfare of women and the poor in Indonesia will require a combined strategy involving women from the grassroots level as well as senior policy-makers and government officials – and she knows that making budgets available for women is one step closer to providing the services owed to them.
The Asia Foundation in Indonesia supports local partners to push for gender budgeting by empowering women and the poor at the grassroots level, building the capacity of civil society organizations to access budget-making processes, and seeking partnership with reformers in the executive and legislative branches of government. Read more about the Foundation's work in Indonesia.
Hana A. Satriyo is the director of The Asia Foundation's Gender and Women's Participation Program in Indonesia. She can be reached at [email protected]. The views and opinions expressed here are those of the individual author and not those of The Asia Foundation.
About our blog, InAsia
InAsia
is a bi-weekly in-depth, in-country resource for readers who want to stay abreast of significant events and issues shaping Asia's development, hosted by
The Asia Foundation
. Drawing on the first-hand insight of renowned experts,
InAsia
delivers concentrated analysis on issues affecting each region of Asia, as well as Foundation-produced reports and polls.
InAsia
is posted and distributed every other Wednesday evening, Pacific Time. If you have any questions, please send an email to
[email protected]
.
Contact
For questions about
InAsia
, or for our cross-post and re-use policy, please send an email to
[email protected]
.
The Asia Foundation
465 California St., 9th Floor
San Francisco, CA 94104
Mailing Address:
PO Box 193223
San Francisco, CA 94119-3223
Change Starts Here Campaign Impact
Thank you for powering The Asia Foundation's mission to improve lives and expand opportunities.