New Report Examines Timor-Leste's Local Governance Strengths, Weaknesses
March 14, 2012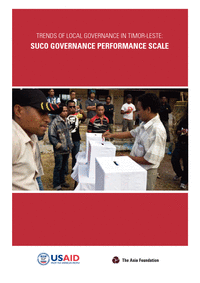 After 10 years of independence and as a nascent democracy, Timor-Leste still faces the dual challenge of building formal institutions from the ground up while ensuring that traditional, local institutions are integrated into the state. In a country where the overwhelming majority of governance functions that citizens rely on, such as security and justice, come through community authorities, the risk is that the state-building process focuses on producing formal institutions that end up existing only on paper. The result is that the state itself often lacks immediate relevancy for the majority of the population, which has concerning long-term implications for state legitimacy and stability.
In 2009, The Asia Foundation began tracking suco (village) council performance through over 750 focus group discussions in all sucos of Oecusse, Bobanaro, Ainaro, and Baucau districts, as well as across sucos in the control districts of Ermera and Manatuto. A new report, produced by The Asia Foundation, analyzes the data collected during the three-year project while highlighting strengths, weaknesses, and trends in suco governance.
About our blog, In Asia
In Asia
is a weekly in-depth, in-country resource for readers who want to stay abreast of significant events and issues shaping Asia\'s development, hosted by
The Asia Foundation
. Drawing on the first-hand insight of over 70 renowned experts in over 20 countries,
In Asia
delivers concentrated analysis on issues affecting each region of Asia, as well as Foundation-produced reports and polls.
In Asia
is posted and distributed every Wednesday evening, Pacific Time and is accessible via email and RSS. If you have any questions, please send an email to
editor.inasia@asiafoundation.org
.
Subscribe
Contact
For questions about
In Asia
, or for our cross-post and re-use policy, please send an email to
editor.inasia@asiafoundation.org
.
The Asia Foundation
465 California St., 9th Floor
San Francisco, CA 94104
Mailing Address:
PO Box 193223
San Francisco, CA 94119-3223