Q&A with Ellen Laipson on the Arab Spring, Women's Status, and Models for Change
April 4, 2012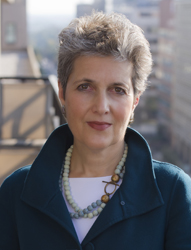 Last week, Asia Foundation trustee and Stimson Center president Ellen Laipson joined veteran journalist Robin Wright in a discussion moderated by new Asia Foundation executive vice president, Suzanne Siskel, on "After the Arab Spring: Prospects for Change." The panel was part of the World Affairs Council's annual 2-day conference in San Francisco. In Asia editor Alma Freeman caught up with Laipson after the event.
In your article that you wrote for this blog in May of last year you talked about President Obama's 2009 Cairo speech raising "some important and enduring conundrums about politics and identity that apply to Asia as well as the Middle East." In what ways do you think these conundrums about politics and identity have evolved in the last year?
The Obama administration has fully embraced the changes that began in late 2010 through the middle of 2011 as a very positive development – the universal call for freedom and dignity. Officials see these events as a powerful and compelling chapter in human history. If we look at President Obama's Cairo speech or how Secretary of State Hillary Clinton talks about these transitions, we see that they resonate with U.S. officials at a fundamental level of values and principles. But that's the big picture. In the real world and in real time, the Administration has had to deal with all kinds of shades of grey and predicaments and challenges. If you put in the same basket democracy, economics, Islam, and security, you will find that not everyone agrees on which is the push and which is the pull, and which American interest should be the determinant of our policies.
During your World Affairs Council panel, Robin Wright warned that at least in the early stages, the transition is not likely going to be good for women. Do you agree?
I completely agree with Robin that this issue hovers over the transition, and will present some hard choices for Western aid donors and for how we engage with these Arab societies in transition. I think that Arab women who have lived in largely secular but non-democratic systems aspired to live in a more democratic environment, but if that democratic environment turns out to be very socially conservative, they are now having second thoughts. There are women who are deeply worried about how constitutions are being rewritten. Some educated, elite women are quite frightened, and don't really have the skills or experience to engage at the political level, to get in the game. They have to fight for the language that they think will protect gender equality, and they certainly hope that western activists will support them in that quest. When we were in Tunisia recently, we saw YouTube videos of Salafi women – very conservative – insisting that only in a sharia-ruled society are women truly free. So, you can see that there is a real war of ideas going on. There are some very powerful, politically assertive women who are saying the opposite of what the secular women are saying.
Are there other countries that underwent similar transitions to democracy that the post-Arab Spring nations can look to as a model?
In Egypt, the analogy that interests people the most is Turkey, a country that went through a much earlier democratic transition and has been a multi-party democratic system for 80 years now. Its relevance to Egypt is in at least three ways. One is the transition to civilian control of the military, and the recognition by the military that they are not above the state; and a second is the rise of an Islamist-oriented political elite that nonetheless preserves a secular constitution. A third part of the "Turkish model" can be seen as positive or negative, depending on one's political values. The Turkish military maintained for many decades the belief that it alone could be the guarantor of democracy: we will decide if the political system is going off the rails, and is leaning towards extremism or other forms of instability; we'll pull it back on track. In the case of Turkey, that meant three military coups in 30 years when politics, parties, and constitutions were temporarily suspended. Today's Supreme Council of the Armed Forces of Egypt may see that as a positive model, but most of the newly empowered actors in Egyptian politics, including the Muslim Brotherhood, would like to see the military take a more modest role in national life.
I also think that experiences in democratic transitions in non-Arab Muslim societies, not just Malaysia but also Indonesia, and even Bangladesh are relevant. New democrats in the Middle East are interested in learning that the transitions and struggles that these countries went through didn't happen overnight, that this type of change takes a decade or more. The committees writing the new Tunisian constitution, for example, told us they have been meeting with experts from Southeast Asia to learn more about their experiences.
Is there scope for multilateral finance institutions to support development in the region?
For sure. The IMF is the one out in front in trying to get the Egyptian economy to a more stable place. The Egyptians are hemorrhaging their foreign exchange, and have failed to reassure investors and donors that they know how to stabilize the economy and generate new economic activity. The U.S. sent a high level delegation to persuade the Egyptians to make a deal with the IMF so that money from other sources would start to flow. The Egyptians sort of said yes, and now they are still haggling over the terms. The scale of what the Egyptians need in terms of job creation may be more than what those institutions are willing to commit in the short run. We've heard from some Arab entrepreneurs who are thinking of trying to do a private sector fund but they want to bypass the Egyptian government. They'd like to make big investments in infrastructure and important things, but they so mistrust the new political actors that they aren't comfortable with who would be their partner.
About our blog, InAsia
InAsia
is a bi-weekly in-depth, in-country resource for readers who want to stay abreast of significant events and issues shaping Asia's development, hosted by
The Asia Foundation
. Drawing on the first-hand insight of renowned experts,
InAsia
delivers concentrated analysis on issues affecting each region of Asia, as well as Foundation-produced reports and polls.
InAsia
is posted and distributed every other Wednesday evening, Pacific Time. If you have any questions, please send an email to
[email protected]
.
Contact
For questions about
InAsia
, or for our cross-post and re-use policy, please send an email to
[email protected]
.
The Asia Foundation
465 California St., 9th Floor
San Francisco, CA 94104
Mailing Address:
PO Box 193223
San Francisco, CA 94119-3223
Change Starts Here Campaign Impact
Thank you for powering The Asia Foundation's mission to improve lives and expand opportunities.