Multimedia
SLIDESHOW: Advancing Women in Asia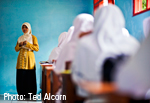 The phrase "gender equality as smart economics" has become the mantra of such women leaders as Secretary of State Hillary Clinton and UN Women Executive Director Michelle Bachelet. While parts of Asia are booming, this does not always lead to greater opportunities for women. Many women across Asia still lack access to education, face significant challenges in earning an income or starting a business, are vulnerable to human trafficking, and struggle to participate in policy decisions that affect their families. This slideshow explores how we are helping women in Asia fight these obstacles.
VIDEO: Kabul ER: The Power of a Book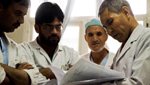 In Afghanistan, physicians at training hospitals across the country struggle to update their skills and provide adequate care to patients because of a lack of equipment, materials, and up-to-date medical texts and reference materials. In 2011, Books for Asia provided over 4,000 medical texts to healthcare institutions in Afghanistan – including Kabul Medical University. Watch this film on the reference materials shortage facing many physicians at training hospitals in Kabul, Afghanistan.
VIDEO: Engaging Stakeholders for Environmental Conservation in Mongolia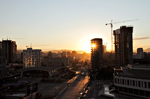 As Mongolia seeks to expand its mining industry, key questions arise regarding natural resource use in a country that still maintains a strong nomadic culture with close ties to the land. Since 2006, we have been promoting and supporting responsible use of water and mineral resources in Mongolia. This film shows our approach to informing and empowering key stakeholders to participate in decision-making that has direct consequences on how citizens, government, and industry engage with each other.