New Index to Help Steer Malaysia's Local Business Growth
May 9, 2012
Real GDP growth in Malaysia has slowed considerably over the past decade and domestic investment, measured as a percentage of GDP, has also decreased. These trends raise doubts about whether Malaysia can attain its goal of reaching developed nation status by the year 2020 and suggest it may linger in a "middle-income trap" for years to come. In 2010, the Malaysian government launched comprehensive economic and government transformation programs designed to stimulate growth and development. The Tenth Malaysia Plan seeks to develop small- and medium-sized enterprises as powerful engines of growth.
On May 8, The Asia Foundation, Monash University Sunway, and RAM Holdings launched Malaysia's first-ever Business Environment Index (BEI), a new knowledge product that supports both the public and private sectors to improve business conditions at the local level.
"Malaysia's success in overcoming the middle-income trap hinges critically on the ability to unleash its entrepreneurial talents and innovation capabilities. High-level initiatives designed to foster a business-friendly environment like the Economic Transformation Programme (ETP) and the Government Transformation Programme (GTP) have laid the right track; what is needed now is an enabling environment, said Dr. Yeah Kim Leng, chief economist of RAM Holdings at the launch. "We see the BEI as a tool to bridge the remaining gaps in information, perception, and performance on the ground."
The BEI ranks the performance of 11 districts and municipalities across six states in Malaysia using nine sub-indices such as entry costs, regulatory costs, informal charges, crime and security, and land access – all critical to growth and a healthy business environment in Malaysia. In partnership with government ministries, national and local chambers of commerce and industry, universities, and research institutes, The Asia Foundation has developed similar tools in Cambodia, Indonesia, the Philippines, Sri Lanka, Vietnam, Bangladesh, and now, Malaysia.
We surveyed 635 business owners face-to-face about their experiences doing business in their localities and their perceptions of local conditions and then compiled information to construct the BEI's constituent sub-indices. A typical respondent firm – from a batik seller in Kuala Terengganu, to a hardware retailer in Petaling Jaya – is a sole proprietorship and small trading enterprise, and is likely to have five or fewer full-time employees and to operate exclusively within the state in which it is located.
Kemaman in the northeastern state of Terengganu ranks highest in business-friendliness overall. Sepang and Kuala Terengganu are close behind in second and third place, respectively. The poorest performing districts are Ampang Jaya and Petaling Jaya, both in Selangor. In general, the study reveals that districts tend to cluster at several performance levels, that districts in the same state are more similar than those in different states, and that high performers fare consistently well across all sub-indices while low performers rank poorly across many areas. View our interactive data visualization site for a full comparison of districts.
The BEI reveals that entry and regulatory costs are well-managed across the areas surveyed and do not represent substantial hurdles to businesses in peninsular Malaysia. In fact, 90 percent of surveyed firms had both a business registration and a business license – a remarkably high proportion among comparable economies. Maintaining a reliable listing of active businesses allows local government to better understand the local business community and therefore respond to its needs.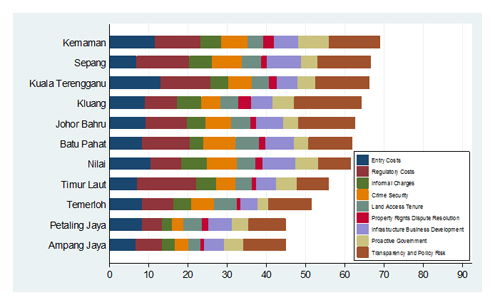 Another finding suggests that improvements can be made in the areas of infrastructure (both "hard" – i.e., roads, electricity, and water, and "soft" – i.e., support services). While infrastructure in Malaysia is considered to be among the best in Southeast Asia, electricity supply is still a major obstacle for 27 percent of the firms surveyed. And, access to quality roads and reliable water supplies varies greatly by district. High standards in infrastructure across districts would enhance business owners' access to broader markets and a wider range of supplies and labor.
Crime and security, informal charges, and transparency registered as the areas of most concern in the BEI. Thirteen percent of business owners reported direct losses from crime in the previous year, including 27 percent in Petaling Jaya. In the face of this risk, many respondents indicated that firms in their line of work find it necessary to hire security services. In two districts, Ampang Jaya and Timur Laut, Penang, this figure stood near 25 percent – a particularly high proportion among very small firms with limited resources.
The threat of informal charges and unfair practices related to government procurement also registered with business owners. Over 80 percent of respondents felt that personal connections to officials or political party backing was important for winning public contracts and, in one district, 35 percent of respondents said that it is sometimes necessary in their line of work to make informal payments.
The survey also revealed that 56 percent of firms do not use computers. Consequently it is not surprising that one-third find it difficult or impossible to access information on government policies and regulations relevant to their sector. Of those that did use computers, only 17 percent use e-government services. This suggests that the current channels employed by the government to provide information and services to the private sector and to receive their feedback are not reaching the majority of SMEs in Malaysia.
As Malaysia mobilizes to achieve its 2020 goal of surpassing middle-income status, we hope that the Business Environment Index will provide a useful metric which illuminates challenges to local business growth and informs efforts to address them.
Reid Hamel is a program associate with The Asia Foundation's Economic Development Program and Anthea Mulakala is the Foundation's country representative in Malaysia. They can be reached at [email protected] and [email protected], respectively. The views and opinions expressed here are those of the individual author and not those of The Asia Foundation.
About our blog, InAsia
InAsia
is a bi-weekly in-depth, in-country resource for readers who want to stay abreast of significant events and issues shaping Asia's development, hosted by
The Asia Foundation
. Drawing on the first-hand insight of renowned experts,
InAsia
delivers concentrated analysis on issues affecting each region of Asia, as well as Foundation-produced reports and polls.
InAsia
is posted and distributed every other Wednesday evening, Pacific Time. If you have any questions, please send an email to
[email protected]
.
Contact
For questions about
InAsia
, or for our cross-post and re-use policy, please send an email to
[email protected]
.
The Asia Foundation
465 California St., 9th Floor
San Francisco, CA 94104
Mailing Address:
PO Box 193223
San Francisco, CA 94119-3223
Change Starts Here Campaign Impact
Thank you for powering The Asia Foundation's mission to improve lives and expand opportunities.