Asia Foundation's Carol Yost Presents at 2012 APEC Women and the Economy Summit
Event: July 2, 2012, San Francisco and St. Petersburg
San Francisco and St. Petersburg, July 2, 2012 — Last week, The Asia Foundation's Director of Women's Empowerment Programs, Carol Yost, traveled to St. Petersburg, Russia as part of a 25-member U.S. delegation led by Secretary of State Hillary Clinton to attend the APEC Women and the Economy Forum (WEF). The Forum, which was held June 28-30, 2012, provided an opportunity for members from private and public sectors across APEC economies to come together to discuss key issues related to women's economic empowerment. Secretary Clinton addressed the delegates at a dinner in the Grand Hall at the Catherine Palace at which she emphasized the importance of women's contributions in APEC economies, noting that APEC members include the first, second, and third largest economies in the world. In East Asia alone, said Clinton, there are almost six million women-owned small businesses and in economies like Indonesia, Malaysia, Thailand, and Vietnam and women-owned businesses are increasing and growing at a fast rate. "Women now represent 40 percent of the global labor force, 43 percent of the global agricultural workforce, and more than half of the world's university students." See a video of Secretary Clinton's speech and the text of her remarks here.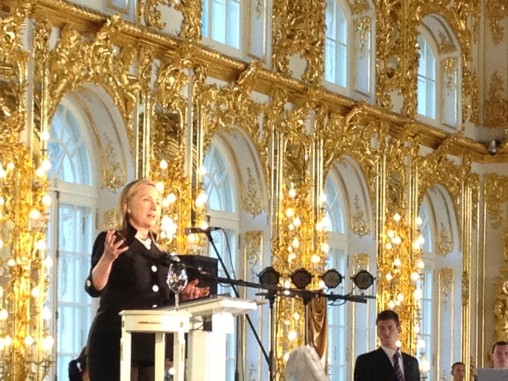 The Secretary went on to note some of the ongoing challenges women often still face in many countries including an inability to open a bank account, sign a contract, or determine what professions they can enter and hours they can work. "Even where there are no legal barriers, social or institutional restrictions often hold women back."
The Secretary announced two new APEC initiatives to expand women's access to capital and markets. First, APEC will work with the UN International Trade Center to improve the ability of APEC governments to source from women-owned businesses. Second, APEC is joining with expert partners to train central and commercial banks throughout the Asia-Pacific in inclusive lending practices so that women can access finance and capital.
Carol Yost presented at the Women's Economic Forum on The Asia Foundation's partnership project with APEC and the U.S. Department of State to conduct research on the factors that encourage or deter women's ability to start and grow businesses and conduct trade in four APEC economies: Indonesia, Malaysia, the Philippines, and Thailand. The research will be compiled in a report entitled, "State of Women's Access to Trade and Economic Initiatives in Selected APEC Economies" that will be released at the 2013 APEC Women's Economic Forum in Indonesia. The report will include results, analysis, case studies, and will generate policy recommendations to accelerate women's access to capital, markets, capacity and skills building and leadership—the four pillars of the Women and the Economy Forum.
In addition, Ms. Yost had the opportunity to meet and discuss with other members of the U.S. Delegation – which included representatives from both the private and public sector. "It was a great privilege to be part of the distinguished U.S. Delegation to the APEC Women and the Economy Forum", noted Ms. Yost. The delegation was composed of both U.S. Government officials, including Ambassador-at-Large for Global Women's Issues Melanne Verveer and Ambassador Hans Klemm, U.S. APEC Senior Official, and other private sector members including vice president and deputy general counsel of Intel, Suzan Miller, Sharon Zealey, chief ethics and compliance officer of Coca Cola, and Krishnan Ramayya, Dean of Heinz College at Carnegie Melon University.
For more than half a century, The Asia Foundation has been a leader in helping women in Asia to realize their potential. The Foundation and its local partners are long-time champions of women's empowerment with on-the-ground programs that create new political and economic opportunities for women across the region.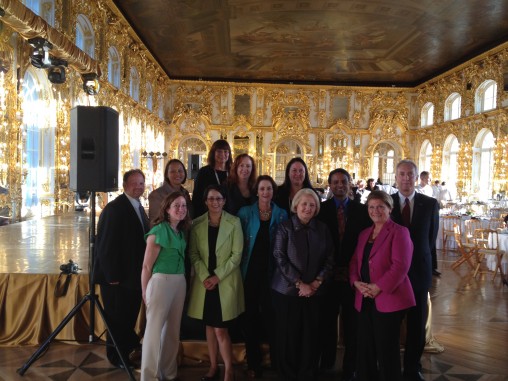 Read more about the Foundation's Women's Empowerment Program and Economic Development Program. For media inquiries, please visit the Press Room.
Read our latest news, or insights from our blog.
Media contacts
Amy Ovalle, Vice President, Global Communications
[email protected]
415-743-3340
Eelynn Sim, Director, Media & Strategy
[email protected]
415-743-3318
Leaders on the Frontlines:
Leaders for a Better World
Tuesday, November 9, 2021, 6PM PT