Q&A: Chang-Lin Tien Fellow Mirza M. Amiri on Afghanistan's Private Sector
August 22, 2012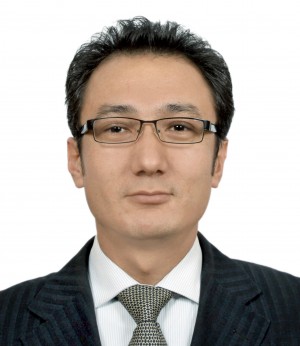 The Asia Foundation's Sam Taffer recently joined Mirza Amiri, former director and CEO of the Export Promotion Agency of Afghanistan, in a discussion on the challenges and opportunities for Afghanistan's private sector. Mr. Amiri is the recipient of the Foundation's prestigious Chang-Lin Tien Visiting Fellow Award, and is spending four months in Washington, D.C., discussing export promotion strategies as well as learning how economic and trade theories are put into practice.
What are the top exports of Afghanistan at the moment? Which sectors have the greatest opportunity for growth?
Currently, Afghanistan has about 10 major export sectors, of which the top exports include: carpets, dried and fresh fruits, and medicinal herbs. One important growth sector is in mining, which everyone already claims will be the savior of Afghanistan. I agree that it will be a savior, but not the only savior. We must understand the realities of mining in Afghanistan, as it is quite difficult to refine minerals and could possibly have negative consequences on the environment.
We must also remember the importance of the agriculture sector. Afghanistan is an agricultural country, and a good percentage of the Afghan workforce is involved in agricultural production. We need to invest in our farmers and in our food processing industry. I am not advocating for billions of dollars here, but I do believe that millions of dollars are necessary. Within the agricultural sector, we must improve the quality of production, packaging, and processing of our food products, making larger shipments available for foreign clients. Saffron is also an agricultural product that is growing in importance, and this resource could become a major Afghan export. Saffron is very unique because it is lightweight and highly valuable, so we could export vast quantities by air to several countries. Additionally, medicinal herbs are a key sector, which could generate a lot of profit if we cultivate them properly.
What will be the greatest challenge for Afghan businesses in the coming years?
There are a number of challenges that Afghanistan will face. The first challenge is tied to stability, including political stability, economic stability, and security throughout the country. Due to this lack of stability that pervades Afghan society, foreign businesses are unsure about our future potential, and our economy cannot grow as a result. While the Afghan people cannot control the current conflict, we should try to prepare for our future after 2014, when the international forces fully withdraw from the country.
We must first tackle corruption in our government and improve our legal framework. There is too much that we cannot accomplish due to the imperfections within our government systems. Our legal framework has yet to become fully developed, and decades of war have led to an inefficient system by which it is difficult to implement policy.
We also must address the growing cost of electricity, which undermines the development of our businesses. We have neither improved nor expanded our electrical grid in Afghanistan, and our country still lacks self-sustainable energy. While we have many possible sources for water power, the government lacks the funding to build dams for electricity, giving our neighboring countries the opportunity to benefit off of our water supply. We need to take steps toward making land available to businesses for lower costs. We need to do a lot of capacity building to prepare the workforce for the job market. Also, we need to make financing cheaper and more affordable in the country. Many of these issues are deeply rooted in society and will take a long time to solve.
What Afghan exports do you wish foreign buyers knew more about? Why?
High-level policy strategists in Afghanistan say the mining sector will be the sole savior of Afghanistan. I agree that it will play a significant role, but mining companies take a significant amount of time before they begin full production. In the meantime, we cannot forget about the non-contract small- and medium-sized enterprises (SMEs) in sectors such as industries, services, and production, which are not given the proper support from the government and by the donor community. We in the Afghan government often say that we do not have enough money or resources to allocate toward private sector growth. But we must provide consultation for these businesses, as it will undoubtedly help them develop potential strategies for growth.
We currently have a "bubble contract economy," meaning that we have relied on contracts for business over the past decade. Therefore, all of the foreign companies that wanted to do business in Afghanistan entered into contracts with local Afghans, focusing mostly on logistics management. In these contracts, Afghans are required to import foreign items for delivery for the troops or international donor agencies, leaving very little business for the Afghan companies.
The Afghan trade balance is currently very bad. Our imports heavily outweigh our exports, which is very dangerous. We must promote the private sector and SMEs in preparation for the withdrawal of troops in 2014. We will definitely end this contract-based bubble economy and business inputs such as labor, land, and perhaps electricity and financing will become cheaper. The international withdrawal will have some serious effects on our economy, so we must start preparing the private sector now. This is something we must remember on the policy and strategy level, both inside and outside our country.
How can the Afghan government better support the growth of SMEs?
The Afghan government is dependent on the donor community, and funding for SMEs is therefore contingent on the donors who wish to support small businesses. These donors must help Afghanistan model itself on the more successful business practices of other countries. Enterprise incubator programs should be replicated in Afghanistan, so that the Afghan SMEs could receive coaching, mentorship, trainings, networking, match making, capacity building, counseling, and other business support. This would enable Afghan businesses to start working and regain the trust of their country.
What do you think would be the best strategy toward export promotion and increasing international trade?
Our economy is now very bad. We have not invested much in production, processing, and import substitution. Our imports are very low quality and the volume of materials is quite high, up to 10 or 15 times the volume of our exports. We have to improve this. We can do so by helping the private sector and investing in "value addition" in the economy. In our contract-based economy, money often goes toward buying foreign goods instead of promoting Afghan goods. Now we need to push the government to promote production among small businesses. We must promote value addition for certain products inside Afghanistan, and once we start producing those high-quality products, such as rugs, saffron, and medicinal herbs, our exports will improve and our quality of life will improve. That way, we can build a proper trade balance and a better Afghanistan.
What is Afghanistan's greatest asset or advantage when promoting its own exports?
Some of our products, like medicinal herbs and dry fruits, have a unique quality and taste. I know people who have tasted these products and would not accept any substitute. I think we can capitalize on our unique resources by expanding our foreign audience. Apart from that, the Afghan entrepreneurial spirit is incredibly valuable. We are very creative and business-oriented, and we can grow healthy companies even though many of us are illiterate. If our entrepreneurial spirit is utilized in a proper way, we can improve our economy. Unfortunately, under the instability of war, the world seemed to forget about the productivity of Afghanistan. I am not worried however. They will remember this vivacity in the coming years.
About our blog, InAsia
InAsia
is a weekly in-depth, in-country resource for readers who want to stay abreast of significant events and issues shaping Asia's development, hosted by
The Asia Foundation
. Drawing on the first-hand insight of over 70 renowned experts in over 20 countries,
InAsia
delivers concentrated analysis on issues affecting each region of Asia, as well as Foundation-produced reports and polls.
InAsia
is posted and distributed every other Wednesday evening, Pacific Time. If you have any questions, please send an email to
editor.inasia@asiafoundation.org
.
Contact
For questions about
InAsia
, or for our cross-post and re-use policy, please send an email to
editor.inasia@asiafoundation.org
.
The Asia Foundation
465 California St., 9th Floor
San Francisco, CA 94104
Mailing Address:
PO Box 193223
San Francisco, CA 94119-3223