Asia Foundation Hosts Development Pioneer Sir Fazle Hasan Abed
September 12, 2012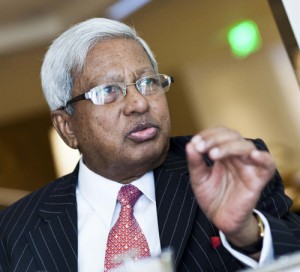 From September 9-19, The Asia Foundation hosts development pioneer Sir Fazle Hasan Abed, founder of BRAC, the largest nongovernmental development organization in the world. Based in Bangladesh, and dedicated to alleviating poverty by empowering the poor to bring about change in their own lives, Sir Fazle is The Asia Foundation's current Chang-Lin Tien Distinguished Visiting Fellow.
The Asia Foundation has arranged an intensive set of meetings and speaking engagements for Sir Fazle during his U.S. visit to the San Francisco Bay Area and Washington, D.C. On Monday night, Sir Fazle spoke at a World Affairs Council event (watch video), and yesterday, In Asia blog editor Alma Freeman sat down with him for an exclusive, face-to-face interview on Bangladesh's remarkable transformation over the last 40 years, his most rewarding (and challenging) projects, and more. Below is an excerpt from the conversation; stay tuned for next week's blog where we'll feature the full interview.
"If Bangladesh continues to have the 6-7 percent growth that we have been having for the last 5-10 years, we will probably attain middle-income status by 2021. But middle-income status just means that per capita income goes up to a particular level. But then, is middle-income status something worth having by itself? One has to ask: what does middle income do for the poor? China is now worried about the middle-income trap, so they now want to get out of the middle-income status and into the high-income status. To me, middle income status would mean that extreme, dehumanizing poverty is no longer there. If a country attains middle income status, and 10 percent of the population is still under extreme poverty, they can't feed themselves and their children, then it doesn't mean much to me."
About our blog, InAsia
InAsia
is a bi-weekly in-depth, in-country resource for readers who want to stay abreast of significant events and issues shaping Asia's development, hosted by
The Asia Foundation
. Drawing on the first-hand insight of renowned experts,
InAsia
delivers concentrated analysis on issues affecting each region of Asia, as well as Foundation-produced reports and polls.
InAsia
is posted and distributed every other Wednesday evening, Pacific Time. If you have any questions, please send an email to
[email protected]
.
Contact
For questions about
InAsia
, or for our cross-post and re-use policy, please send an email to
[email protected]
.
The Asia Foundation
465 California St., 9th Floor
San Francisco, CA 94104
Mailing Address:
PO Box 193223
San Francisco, CA 94119-3223
2022 Impact Report
Thank you for powering The Asia Foundation's mission to improve lives and expand opportunities.