Burmese Librarians Discuss Country's Appetite for Education, Changes Underway
September 26, 2012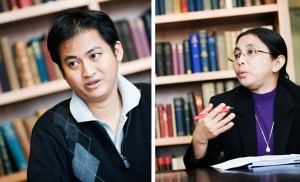 The Asia Foundation's Asian American Exchange unit and Books for Asia are currently conducting a 10-day observation program around northern California for 14 librarians from nine Asian countries. While in San Francisco, In Asia editor Alma Freeman caught up with two librarians from Burma (also known as Myanmar): Ms. Mya Oo, director of the National Library of Myanmar; and Mr. Ye Htet Oo, founder of the nonprofit Tharapar Library in Yangon, which operates four mobile libraries. Their conversation focused on the changes underway in their country, the appetite for reading, shifts in censorship, and more.
It has been said that despite five decades of near-isolation, the culture and appetite for education and reading is still very much alive for the people of Myanmar. Can you talk a bit about this culture, and how this has changed throughout the years?
Mr. Ye Htet Oo:  The reading culture was established many years ago in Myanmar. Before we had formal schools, we had monastery school education, which is all about reading and also teaching religion. This is still very much alive in our society. In addition, due to a long period of isolation, we haven't had many other forms of entertainment and even then, it's too expensive for the majority of people. Most people still read books or other publications in their leisure time as they aren't able to spend much on internet or computers, and some places don't even have electricity yet. People in Myanmar read to give their minds an outlet. This has helped to preserve our reading culture.
Ms. Mya Oo: As Ye Htet said, our reading culture has been strong even since the Pagan Dynasty where we have a record of literary works. At the time, there were many scholars in the literary field, and even women were able to be literary scholars. That literary culture has extended for decades until now.
Myanmar's literacy rate remains high at 90 percent – much higher than many other countries in the region. How has this been maintained, despite its isolation?
Ye Htet Oo: Even though they might not be able to access a formal education, most of the people in Myanmar have learned to read in other ways, either through monastery schools or maybe they went to a church and learned to read from the nuns. That's why the literacy rate is pretty high even in the rural areas. Even if you can't go to the schools, there is somewhere for you to go to learn to read. However, there is a need here for more schools. In some larger areas like Yangon and Mandalay, there are sometimes 70 students per classroom. That's how it was when I went to high school, and that's too many for one teacher.
Mya Oo: People have long let their children go to the monastery, even in the villages, where children can learn to read and write. Some due to poverty cannot read to the highest standard, but they can still read and write.
In just a year, the Myanmar government has relaxed censorship, and lifted bans on internet access and social media websites. Can you describe what the atmosphere was like before and how this will play a role in people's access to information and the future of libraries in the country?
Ye Htet Oo: Censorship has its advantages and disadvantages as all things do. One good thing about censorship is that it protects the reader from hateful or false comments. But then, the bad part about that is that the reader isn't exposed to the other side of the debate. If you see white, you have to believe white, that's it. Now that censorship has been relaxed, you don't need to rely on outside media to know about the different sides. We have much more freedom to speak and write now. But it's also important that people know whether something is biased or not when they read it, and the media need more practice at offering both sides so that coverage isn't this way. Right now, NLD party leader Daw Aung San Suu Kyi and President Thein Sein are both in the U.S. However, you aren't finding news of Thein Sein's visit in the local papers in Myanmar. This is what happens when you don't have any censorship at all, and you have to decide what is good and what is bad.
Mya Oo: We should respect each other's privacy, and the media must have strong ethics. With this shift, we now need to find what level of freedoms and what levels of censorship we need in order to maintain our ethics.
Ye Htet Oo: One benefit of this change is that it has recently become much easier to open a library than it once was. I opened my library in 2009, and I went through a lot to get permission to open the library, and it shouldn't be that way. Right now, you don't really need a license, you go to the Ministry of Information and they will help you. People now have greater access to information, and that's a very good shift. But we still need to encourage people to read more books both in English and in Myanmar language that aren't just about entertainment and celebrities. Now that the country has started to open its door, a lot of pop culture entertainment content has come in.
Among other Southeast Asian countries, our internet connectivity is low, but still, people use it a lot – you would not believe it. There's a huge demand for it. However, as a librarian, it could be a scary influence. When you have other forms of entertainment like TV and internet, books will be the last thing young people will want to choose. As a result, our libraries also need to adapt. You can't wait for people to come and read in your library; you need outreach programs that convince people that libraries are like home again. Of course we need the internet, but we must also find ways to balance it.
What has been the role of libraries in society over the last decades?  What have been the biggest challenges that you've faced?
Ye Htet Oo: In past years, the use of libraries was quite high because we didn't have a lot of other entertainment options. I operate four mobile libraries outside of Yangon, where the poverty rate is much higher than in the urban areas. In colonial times, the library was a place where you gathered around for discussion and to make things happen. But after the colonial era, it became a bigger issue for people to gather in a group. There was worry that if you came together you might talk about politics. That's why libraries in Myanmar have struggled at times. After I opened my library, this has become less and less an issue, and people have started gathering at libraries to discuss ideas. This is going to continue to get better in the future, but for right now, we need to build more programs to encourage people to come to the library and stay, not just come to the library, take a book, and go back home.
Mya Oo: The National Library is different from other public libraries. After independence, we received most of our special collection from the Bernard Free Library which was established in 1883. Our vision is to be the center of the intellectual heritage of Myanmar. That's why we have to preserve these special collections as part of our heritage.
We primarily serve researchers and scholars, and we currently can't meet users' demand. We rely on government funding, and the rules and regulations regarding the books can be strict. As a result, we have not been able to lend the books to the public to take home. If we take inventory of the collections, if we've lost even one book, we will have a lot of explaining to do. However, now, our superiors are starting to understand what we need to do to reach the public. We cannot just wait for people to come into the libraries; we have to go to the people and give them to the people. We are responsible for the risks of loss of the books. If we can't be responsible for that, we cannot meet our vision. We've recently started to lend the books twice a month to a teacher training college nearby, which can't afford to buy publications, and people can use them there as well.
What role can the international community play to strengthen libraries, education, and access to information in your country?  
Mya Oo: In the past, many of our country's trained librarians and professors got masters degrees from the West, especially the U.S. This really helped them to gain techniques to teach students successfully. But, later, as a result of sanctions on Myanmar, no one could go to the U.S. and other western countries for scholarship. The U.S. is the best place to learn librarianship. If these countries would allow more scholarship programs, this would help the development of our own librarianship.
Ye Htet Oo: For the community libraries in Myanmar, funding is a big issue. In other countries you might fundraise openly, but in Myanmar, that would still be a problem. We need more funding to come up with innovative ways to make people come back to the library. Libraries and books are welcome and we need more, but we also need support to build library outreach programs – that would be very helpful.
What has been the most memorable and valuable experience from the study tour that you have gained so far?
Ye Htet Oo: This has been a great opportunity for me to come to the United States and explore how libraries work in a developed country. Pop entertainment is now dominating our time, and it is very hard for a library to survive as it did in the old days. So, we need to make and run programs which will help ensure that libraries provide people with relevant information. While here, we've visited libraries that offer online job searches and college counseling, which have been some of the most exciting things to see, as it encourages more people to come and participate in the library programs. I also meet volunteers who are in their 50s or 60s, which is interesting, because in my country most of the volunteers are between 16 and 18. I realized that I need to recruit seniors and retirees as well in my library. Getting to know all of the other participants from across Asia has been the most thrilling experience. Many of us come from similar backgrounds and have nearly the same issues, so it's good to share and learn from each other's experiences.
About our blog, InAsia
InAsia
is a bi-weekly in-depth, in-country resource for readers who want to stay abreast of significant events and issues shaping Asia's development, hosted by
The Asia Foundation
. Drawing on the first-hand insight of renowned experts,
InAsia
delivers concentrated analysis on issues affecting each region of Asia, as well as Foundation-produced reports and polls.
InAsia
is posted and distributed every other Wednesday evening, Pacific Time. If you have any questions, please send an email to
[email protected]
.
Contact
For questions about
InAsia
, or for our cross-post and re-use policy, please send an email to
[email protected]
.
The Asia Foundation
465 California St., 9th Floor
San Francisco, CA 94104
Mailing Address:
PO Box 193223
San Francisco, CA 94119-3223
Change Starts Here Campaign Impact
Thank you for powering The Asia Foundation's mission to improve lives and expand opportunities.