Governance Expert Roohafza Ludin Examines Afghan Poll Findings
November 28, 2012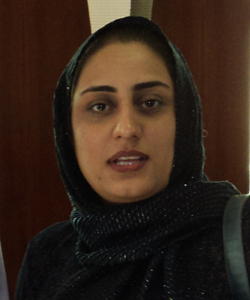 Immediately following the recent release of the much-anticipated 2012 Survey of the Afghan People, In Asia editor Alma Freeman spoke with Asia Foundation governance and education specialist in Kabul, Roohafza Ludin, for her reaction to the survey findings. Read the full interview below.
In this year's survey, a majority of Afghans say that their families are more prosperous today than they were during the Taliban era, with, interestingly, more women than men saying so. What kinds of changes and developments do you think have contributed to this apparent feeling of greater prosperity?
This year, we saw a rise in a couple of areas that indicate that people have better access to basic needs, including schools (51% compared to 46% in 2011) and an overwhelming majority with access to drinking water. Financial well being is up seven points to 50 percent, health of family members is on the rise at 42 percent, and freedom of movement is a high 72 percent.
I think that greater participation of women in the political process, economic development, and increased access to education have also contributed significantly to an overall feeling of greater prosperity. While women's rights issues still remain a grave challenge in Afghanistan, in the past few years, women have become more vocal about some issues, including violence against women. Greater women's participation and involvement in governance, civil society, and social life has helped generate broader awareness of these issues among women and men, which has in turn influenced policy and decision-making.
There have also been some efforts from the government such as the establishment in 2006 of the family response unit within the police department and the strengthening of women affairs directorates. Recently, civil society and women activists have had more influence on policy and decision-making and media have been playing a key role in helping these voices reach the greater public.
Six years ago, you opened a private school in your neighborhood, one of Kabul's most heavily populated districts. What is your reaction to the survey findings that cite access to schools as being one of two areas in which most Afghans report improvements over the past year?
That's right, and we are still managing the school successfully. I certainly see the improvements in education that respondents indicate in the survey: 77 percent expressed satisfaction on availability of education services, while 89 percent expressed satisfaction with the government's performance in this sector.
Although the number of girls in school is still smaller than the number of boys, there is more acceptance for girls' education among families today than in the past, they have recognized that by educating their children, and specially their daughters, they have a greater shot at prosperity and a better future.
Unfortunately, there is a big divide between rural and city areas. Generally, the urban population has better access to education and greater freedom of movement. Also, the focus of development projects has always started in the urban areas, whether by the government or the international community organizations. While the challenges may vary, a lack of qualified teachers – particularly women – exists all over the country.
The Directorate of Women's Affairs is by far the institution most frequently identified by Afghans as a place where women can go for assistance with their problems, and in 2012 it was cited at twice the rate as in 2011. What changes have you noticed in Afghanistan's institutions?
I think the Directorate of Women Affairs' (DoWA) role and mandate is more clearly understood by the government institutions and public in comparison to previous years. As we see from the survey, just over half of the respondents see the DoWA as the place where women can go for assistance. Indeed, there has been a lot of focus and support to strengthen the capacities of the DoWA in recent years and we see the impact of such efforts in the survey findings. Greater engagement and partnership with civil society and the DoWA has also been critical in strengthening its role in society and for women.
What do you think are the biggest accomplishments that Afghan women have made over the last decade? What are the biggest challenges ahead?
Women's political participation is the biggest achievement over the past decade. We currently have 68 women members of Parliament in the Lower House, 28 senators in the Upper House, three women ministers, a female governor, director of the Human Rights Commission, a female director of the Red Crescent, and nine women are members of the High Peace Council.
The biggest challenges ahead for women will be improving the legal framework to provide greater protection for women's rights in the society. Violence against women at all levels of society still remains a great challenge and concern. This year, we have witnessed disturbing cases of violence and loss of life for women leaders. In July, Hanifa Safi, director of Women's Affairs in of Laghman province, was killed by a car bomb. The Afghanistan Independent Human Rights Commission has registered 3,000 cases of violence against women in the first six months of this year.
There is a dire need for more awareness of the laws, particularly the 2009 Elimination of Violence against Women (EVAW) law, and also improvement of existing laws in favor of women's rights to ensure that these rights are safeguarded. Legislative processes need to be more consultative with the civil society to address women's issues in the process of lawmaking and amending the existing laws.
It's critical that all bodies of government and civil society work together to ensure that the achievements of the past decade are upheld, particularly during the transition.
Speaking of transition, as the country transfers security to Afghan control, what are your greatest concerns?
While there is confidence in the Afghan national security forces, it is widely understood that they still require training and are under-equipped to take full responsibility for security, particularly in the most volatile and insecure regions of the country.
Seventy-nine percent of respondents indicated that corruption is a major problem at the national level, while unemployment at the national level is at 27 percent, and 29 percent ranked this as their first concern. These are my major concerns as well, as these issues will be contributing factors to Afghanistan's economy and security.
And, as a woman, I'm also concerned about upholding and promoting further progress of the achievements of women in the past 10 years.
About our blog, InAsia
InAsia
is a weekly in-depth, in-country resource for readers who want to stay abreast of significant events and issues shaping Asia's development, hosted by
The Asia Foundation
. Drawing on the first-hand insight of over 70 renowned experts in over 20 countries,
InAsia
delivers concentrated analysis on issues affecting each region of Asia, as well as Foundation-produced reports and polls.
InAsia
is posted and distributed every other Wednesday evening, Pacific Time. If you have any questions, please send an email to
[email protected]
.
Contact
For questions about
InAsia
, or for our cross-post and re-use policy, please send an email to
[email protected]
.
The Asia Foundation
465 California St., 9th Floor
San Francisco, CA 94104
Mailing Address:
PO Box 193223
San Francisco, CA 94119-3223
2020 Annual Report
Addressing the global crisis