Afghan Museum Director Leads Charge to Protect Nation's Cultural Heritage
December 19, 2012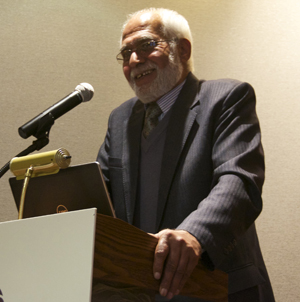 Stone sculptures of headless torsos, huge niches stripped of priceless Buddhist statues, rubble scattered on the floor of empty galleries lined with classical columns – these are the images of carnage inflicted on the art and artifacts of Afghanistan in the last three decades. They represent, however, only one aspect of the nation, that Mr. Omara Khan Masoudi, director of the National Museum of Afghanistan, wants to present to the world.
During his fellowship as The Asia Foundation's Brayton Wilbur, Jr. Fellow in Asian Art in San Francisco, he examined museum management and practices at Bay Area museums. He also used the occasion to let people know about his efforts to restore the collections of the National Museum of Afghanistan and plans for building a new state-of-the-art facility in Kabul. While in the Bay Area, he also hoped to introduce Americans to the beauty of the art of Afghanistan, the rich history of its civilization, and the resilience of its people.
"So much of what one hears about Afghanistan is about wars and conflict," he said. Mr. Masoudi knows first-hand what this conflict has done to his society and the arts. He has been affiliated with the museum since the 1970s, and has witnessed three decades of turmoil and destruction. But he reiterated the importance of pointing out the nation's positive efforts, in cooperation with the international community, to restore its artistic heritage and overturn this narrow perception.
Located on the ancient Silk Road in Central Asia, Afghanistan is inhabited by a population of diverse cultures. Throughout its history, people of different ethnicities and religions settled in the region, including Hindus, Muslims, Jews, Buddhists, and Zoroastrians, bringing with them the rich diversity reflected in the paintings, sculptures, textiles, coins, and everyday objects now displayed in the National Museum and provincial museums in Afghanistan.
Although the National Museum lost 70 percent of its collection over time, international efforts to restore and safeguard Afghanistan's heritage have been considerable. The Society for the Preservation of Afghanistan's Cultural Heritage (SPACH), a European-financed charity, has arranged for the repatriation of many looted items. The British Museum alone has sent back 6,000 pieces of Afghan art. With U.S. Department of State funding, the University of Chicago's Oriental Institute is currently helping to inventory the National Museum's collection and develop a bilingual English-Dari database of its holdings.
Although documentation of many of the art objects was destroyed over the last three decades, some records are to be found in other parts of the world in the form of black and white plates and descriptions in books, catalogues, and other sources. According to Director Masoudi, many are in Europe and written in various languages not accessible to Afghans. Making these resources available to Afghans as well as to a larger audience remains a challenge.
In the U.S, public interest in learning about the language and culture of Afghanistan is just beginning, according to Dr. Mitri Ara, professor of Persian Studies at San Francisco State University. Ara teaches Dari, the lingua franca of Afghanistan. She notes that even in the San Francisco Bay Area, home to about 30,000 Afghans, it was necessary to combine scarce resources in order to put together a Minor in Persian Studies. Nevertheless, enrollment in her classes is growing and many young Afghans born in this country are eager to learn about their own language and history, and connect with their heritage.
Director Masoudi's public presentations drew an enthusiastic response from diverse audiences that included members of the Afghan community and art and archaeology specialists. One notable individual who sought him out was the director of the Marin Museum of the American Indian. Pointing to their common experience of losing cultural artifacts and associations in turbulent times, she spoke of the importance of preserving the past and collective memory to ensure a sense of identity.
Based on his fellowship experience, Director Masoudi plans to establish a department of public affairs at the National Museum to strengthen its public education and community outreach. He also identified the need for more professional exchanges between American and Afghan museum staff. He emphasized how important it is for young Afghans to learn about their artistic and cultural heritage, along with essential computer and foreign language skills. As he explained, "Once they know about their cultural past, there will be no more destruction of the art."
Julia Chen is a program officer for The Asia Foundation's Asian American Exchange (AAX) unit in San Francisco. AAX administers the Brayton Wilbur, Jr. Fellowship in Asian Art in collaboration with The Asian Art Museum. Chen can be reached at [email protected]. The views and opinions expressed here are those of the individual author and not those of The Asia Foundation.
About our blog, InAsia
InAsia
is a weekly in-depth, in-country resource for readers who want to stay abreast of significant events and issues shaping Asia's development, hosted by
The Asia Foundation
. Drawing on the first-hand insight of over 70 renowned experts in over 20 countries,
InAsia
delivers concentrated analysis on issues affecting each region of Asia, as well as Foundation-produced reports and polls.
InAsia
is posted and distributed every other Wednesday evening, Pacific Time. If you have any questions, please send an email to
[email protected]
.
Contact
For questions about
InAsia
, or for our cross-post and re-use policy, please send an email to
[email protected]
.
The Asia Foundation
465 California St., 9th Floor
San Francisco, CA 94104
Mailing Address:
PO Box 193223
San Francisco, CA 94119-3223