Despite Rapid Modernization in Vietnam, Survey Reveals Gender Bias Persists Among Youth
March 6, 2013
In Vietnam, a remarkable 95 percent of young people between the ages of 15 and 24 have access to the internet, with social networking growing so rapidly that Vietnam is Facebook's fastest growing market in the world, with an estimated 8.5 million users, according to a We Are Social report. No doubt, rapid economic growth in the past two decades has contributed to tremendous social transformation in Vietnam, while global integration and the communications revolution have connected young Vietnamese to outside information and views like never before. Despite these trends, a brand new survey reveals that traditional gender roles remain deeply embedded in Vietnamese society and institutions, permeating work, home, and the public arena.
While discussions on gender issues in Vietnam are on the rise, they are often static and focus on symptoms rather than examining the drivers of inequality. Seeking to recast the gender conversation in a way that engages Vietnamese youth, over the past six months The Asia Foundation has been working with two Vietnamese NGOs, the Institute for Studies of Society, Economy, and Environment (iSEE) and the Research Centre for Gender, Family, and Environment in Development (CGFED), to develop and implement an interactive online survey and discussion forum called "Youth and Gender in Vietnam." This initiative explores Vietnamese youth's gender conceptions and the impact on their lives – from their choices of careers and partners to their vision of leadership.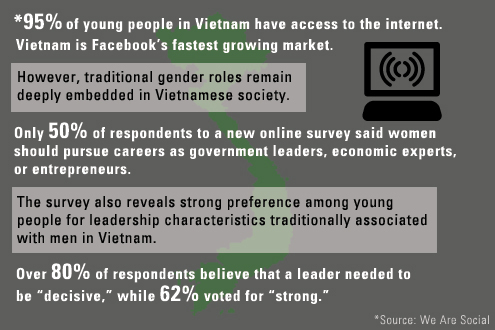 The response to the survey and forum has been exciting. Within just two days of the launch online in early January 2013, 2,100 young people from all over the country had responded. While we are still in the process of analyzing the results, initial findings from the survey and in-depth interviews have produced some surprises with sobering implications for gender equality in Vietnam. In all, over 2,500 people took the survey, which was conducted through three popular websites; News.zing.vn, VOZ forum, and Lamchame forum. We explored the results in greater detail through in-depth interviews and focus groups discussions with students in the North and Center of Vietnam. Eight interviews and two group discussions have been held so far. More are planned, with further interviews and group discussions engaging young people in the South, informal workers, and teenagers.
Vision of leadership
The survey reveals strong preference among young people for leadership characteristics most commonly associated with men. More than 80 percent of respondents believe that a leader needed to be "decisive," while 62 percent voted for "strong."
Respondents also overwhelmingly identified those characteristics as being male rather than female characteristics. There was very little difference in response whether the respondent was male or female, whether they were from a rural or urban area, or whether they were already working or still in school. In follow-up focus group discussions held in universities in Hanoi and at a teacher's training college in Phu Yen province in February, male students voiced very strong views against the idea of having female leaders. One respondent in Phu Yen critically stated, for example, that, "It's fine if they are talented women, but I still prefer a male superior." Given that these students are being trained to become teachers who will inculcate ideas about gender roles to future generations of young Vietnamese, the strong gender bias they hold is a cause for concern.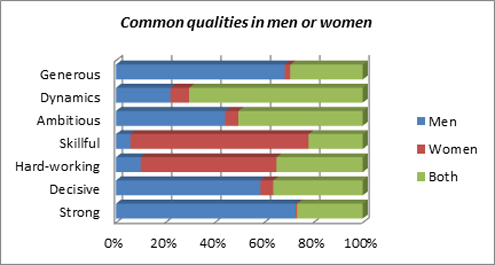 Career choice
The survey data conveyed gender prejudice around career choice, as well. While over 80 percent said that being a university professor was suitable for both men and women, far fewer – around 50 percent – of respondents stated women should pursue careers as government leaders, economic experts, or entrepreneurs. Interestingly, the 50 percent who said that these careers were unsuitable for women were evenly split between male and female respondents.
Partner expectations
Famously, in 1965 President Ho Chi Minh said that the heroic, indomitable, generous, and responsible contributions of Vietnamese women should be honored. Often repeated, these became the idealized characteristics for the next generations of Vietnamese women. According to the survey, perceptions on this don't seem to have changed. Skillfulness (66%), hardworking nature (63%), and self-sacrificing/long-suffering (33%) remain the key expectations of a female partner among young Vietnamese men. Meanwhile, Vietnamese women overwhelmingly identify stereotypically male traits in their perfect partner, with 81 percent wanting their partners to be "strong." One quality both young men and women wanted to see in their partners was dynamism – identified by 50 percent of both sexes.
These preliminary survey results show that Vietnam's younger generation, a group that is often held up as being very open and liberal, hold on to traditional gender roles. These views will have direct impact on the choices they make in their careers, relationships, children, and friends, and how they perceive leadership and power. Despite all the rapid changes in Vietnam, it seems that a spiral of "gender bias" continues to be passed from generation to generation, embedded in social values and norms. The survey is just the first stage of our work. We will use the results to generate debate among young people on key issues such as characteristics for leaders and partners, sharing the burden of domestic work, and domestic violence. We will use both online engagement through the gender forum run by CGFED and off-line events in universities and workplaces to get young people debating and challenging stereotypes. A full report on the project will be published later this year but the occasion of International Women's Day presents an opportune moment to consider how policy-makers and gender activists can adapt their approaches to tackle the deep roots of gender inequality more effectively.
Read more about The Asia Foundation in Vietnam, and learn how you can support our Vietnam Scholarship Program for Disadvantaged Girls.
Nguyen Viet Ha is The Asia Foundation's senior program officer for Social Development and Women's Empowerment in Vietnam. She can be reached at [email protected]. The views and opinions expressed here are those of the individual author and not those of The Asia Foundation.
About our blog, InAsia
InAsia
is a bi-weekly in-depth, in-country resource for readers who want to stay abreast of significant events and issues shaping Asia's development, hosted by
The Asia Foundation
. Drawing on the first-hand insight of renowned experts,
InAsia
delivers concentrated analysis on issues affecting each region of Asia, as well as Foundation-produced reports and polls.
InAsia
is posted and distributed every other Wednesday evening, Pacific Time. If you have any questions, please send an email to
[email protected]
.
Contact
For questions about
InAsia
, or for our cross-post and re-use policy, please send an email to
[email protected]
.
The Asia Foundation
465 California St., 9th Floor
San Francisco, CA 94104
Mailing Address:
PO Box 193223
San Francisco, CA 94119-3223
Change Starts Here Campaign Impact
Thank you for powering The Asia Foundation's mission to improve lives and expand opportunities.