Q&A: Douglas Bereuter Examines Global Food Security & Sustainability
March 13, 2013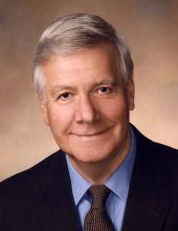 As the world population approaches 9 billion by 2050 and demand for food rises, tackling food security and sustainability is one of the most critical challenges. In Asia editor Alma Freeman spoke with former Asia Foundation president and member of Congress, Douglas Bereuter, well known for his global hunger and agriculture initiatives, ahead of his talk on this topic that he presented today, March 13, at the annual Matsui Lecture at the University of California Berkeley.
What achievements and progress in the area of food sustainability and security have been made in the last decades?
There has been significant progress made in this area since 2009 – both internationally, and from the U.S. government and related foundations. The effort of the Chicago Council on Global Affairs was crucial in what has happened and it has been my privilege to be a volunteer on their task force since early 2008. It established an international effort, called the Global Agricultural Development Initiative, funded by the Gates Foundation. We prepared a proposal of suggested initiatives that could be done by the U.S. and international efforts and presented it to both the McCain and Obama campaigns in time for them to take it to the Republican and Democratic conventions. After the election, Obama's transition team picked it up and it became the basis for Obama's initiatives which he began to speak about in 2009, when he suggested a global agricultural initiative at the G20 summit in London. He followed up with more detailed proposal and a pledge at the July 2009 G8 summit in Italy of an additional $3.5 billion over the next three years and that leveraged another $18.5 billion in pledges from other countries and international institutions.
Later that year at the Rome Food Summit, the Rome principles were unanimously endorsed by the 193 countries in attendance and provided the foundation for collective global action on food security. To implement the president's pledge, then U.S. Secretary of State Hillary Clinton announced in May 2010 the Feed the Future program. USAID decided to concentrate its efforts for Feed the Future on five Sub-Saharan Phase II countries and then on the remaining 15 countries, including Bangladesh, Cambodia, Nepal, and Tajikistan in Asia, that seemed to be ready to effectively implement the Rome principles to feed their population and their families.
But despite this recent focus, there has been a 2-decade long decline in support for agriculture development aid on the part of the wealthy countries. Of the Organisation for Economic Co-operation and Development (OECD) countries, the proportion of aid that they have provided to developing countries for agriculture development was in the area of 11 percent in the late 1980s and fell to 6 percent in 2008-2009, which led to digression in some areas of progress. Now, under USAID Administrator Rajiv Shah, this has been largely reversed in the last year and a half, and that's been good news.
Undernourishment and poverty is still rife: India struggles to alleviate hunger, as poor distribution, among other problems, left 18 percent of the population, some 217 million people, undernourished from 2010 to 2012. What do you see as the major obstacles here?
We will have an expected 2.3 billion additional people added to the world's population by 2050, moving from 7 to over 9 billion. There are more desperately poor people at poverty and below poverty levels in India, concentrated in the Northeast, than all of sub-Saharan Africa combined.
It's estimated that 33 percent growth in population means that we need to somehow provide agricultural development that helps people's income increase, and of course, as that income increases, there will be different dietary and caloric intakes, so you then have more food being eaten by those you are trying to help. Of course there are also the unknown factors of weather volatility and even more demands for water. Seventy percent of the world's fresh water is used today by agriculture. The UN says that already 25 percent of the world's farm land is degraded, causing fertility and erosion problems. At most there might be 12 percent of the world's land surface that could be cultivated that is not.
There are 560 million people who survive on less than a dollar and a half a day. Approximately 70-80 percent of the world's poorest people live in rural areas. They live on small farms, predominately women and children, and they rely on subsistence farming. They are highly vulnerable to disasters, to dislocations, to disease. An average African family uses nearly half of their income to feed themselves, compared with the U.S. average family that spends about 6 percent of their income on food. We have inadequate infrastructure, inadequate farm to market roads, transportation capability, and communication capabilities. There is also an access problem created by trade barriers. It's said that Africa could feed itself – it doesn't now – if it simply eliminated the trade barriers among African countries, not to mention from developed countries to Africa. There is also rising commodity prices and food price volatility. In late 2007 and in 2008, food crises in many parts of the world, especially in Southeast and South Asia, stemmed from rising energy costs, weather changes, and panic reactions on the part of governments. That wiped out any fragile savings those families might have had, and delayed economic recovery.
Climate change is another challenge. We don't know what this will do, but there are estimates that suggest effects from climate change are currently reducing the productivity worldwide of about 5-6 percent and that there are estimated to be production declines of  7 percent in at least a quarter of the countries in the world.
What innovations in food production are being made to promote sustainability in preparation of a growing population and increase demand in food?
Much of Southeast Asia depends on rice as a primary food staple. There is good work, some supported by Feed the Future, to adapt plants and seeds for changing growing conditions. For example, the International Rice Institute and USAID have developed types of rice that are now saline and drought resistant. That's particularly important for a country like Bangladesh, which not only suffers from occasional typhoons, but also droughts.
A new type of sweet potato has been produced in Rwanda that is high in beta carotene, nutrition dense, and produces large amounts of Vitamin A, which is very important to health and nutrition. An estimated 50 million children are affected by Vitamin A deficiencies every year, so this new sweet potato will be very important for them and pregnant women.
In Mali, 70-80 percent of the food, like much of West Africa, is produced by women farmers. The feminization of farming – it's been going on there for ages, but now it's recognized and we are trying to increase women's resources and access to credit, land tenure, and new technologies. It's been found, and pretty well proven, that if you put the money into the hands of these women farmers, it will result in better healthcare, food, and education for their children. Through Feed the Future, and based on feedback from Mali's government, we concentrated efforts on a group of women shallot farmers who were using traditional methods that were time consuming and low in productivity. By introducing new equipment, storage facilities, improved plants and seeds, and techniques to a 2,000-member cooperative that they had formed, they dramatically increased their shallot production, which is putting money in their hands for food, health care, and the education of their children.
We are finding that in some places in Africa, the use of the cell phone is widespread, even down to the small holder farmer, and through her phone, she is able to access credit, access extension services where they exist, get information about crops and markets, and other things that are completely life-changing.
What role can NGOs play in supporting the global fight against poverty and ensuring food sustainability?
This takes us right back to the beginning – the efforts of the Chicago Council would probably not have been possible without the support of the Gates Foundation. Also, while I have emphasized the kind of changes that our government has supported, public funds alone are not going to get us there. It's going to take a leveraged private sector and complementary actions by NGOs in order to broaden this public effort. Compared to the resources that the public sector can put into this, even if it's going to be 18.5 billion or 21.5 billion every three years, which is hopeful thinking I'm afraid, the private sector can put in even more if they are motivated and convinced that the risks are such that they can make a profit. We can help the private sector focus on how they can make money by helping a network of small holders with new seeds, technology, and plants. In many cases, the most effective agents to take the new resources and technologies and get it applied by subsistence farmers and others is an NGO that has the trust and confidence in the people on the ground to accomplish it.
About our blog, InAsia
InAsia
is a bi-weekly in-depth, in-country resource for readers who want to stay abreast of significant events and issues shaping Asia's development, hosted by
The Asia Foundation
. Drawing on the first-hand insight of renowned experts,
InAsia
delivers concentrated analysis on issues affecting each region of Asia, as well as Foundation-produced reports and polls.
InAsia
is posted and distributed every other Wednesday evening, Pacific Time. If you have any questions, please send an email to
[email protected]
.
Contact
For questions about
InAsia
, or for our cross-post and re-use policy, please send an email to
[email protected]
.
The Asia Foundation
465 California St., 9th Floor
San Francisco, CA 94104
Mailing Address:
PO Box 193223
San Francisco, CA 94119-3223
Change Starts Here Campaign Impact
Thank you for powering The Asia Foundation's mission to improve lives and expand opportunities.