Despite Odds, Mongolians Hopeful for a Less Corrupt Society
April 3, 2013
Recent reforms in legislation and institutions have helped demonstrate Mongolia's strong commitment to combating corruption, and the effects are noticeable in some areas: in Transparency International's 2012 Corruption Perceptions Index, Mongolia's ranking improved from 120 to 94, up 26 places from 2011. Still, corruption remains an area of great concern, and, according to a new survey released on April 3 by The Asia Foundation in Ulaanbaatar, a significant threat to the quality of governance.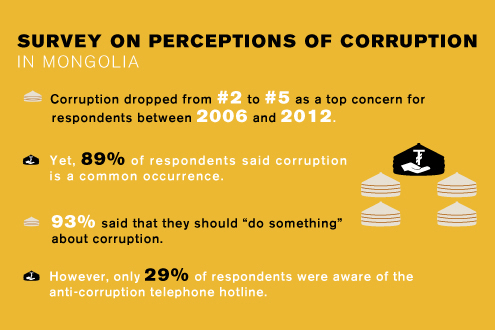 The "Survey on Perceptions and Knowledge of Corruption" (SPEAK), conducted in partnership with the Sant Maral Foundation, surveyed 1,360 households in seven districts of Ulaanbaatar and 21 soums (districts) of 6 aimags (provinces) representing the four regions of Mongolia. The survey measured corruption levels in Mongolia by capturing data on public perceptions and grand corruption, institutional behaviors, as well as people's actual experience with corruption at the household level. Importantly, the survey for the first time included questions on grand corruption, and builds on earlier benchmarking studies started by the Foundation in 2006 and conducted 11 time since then. As such, the survey serves as a barometer of people's perceptions and experiences over time, and will provide useful input for policy deliberations as Mongolia prepares to revise its mid-term anti-corruption strategy (the draft of which is now under discussion). The findings will also help to develop a more contextual understanding of corruption and its damaging consequences, as well as build political consensus on the challenges and obstacles ahead.
According to the survey findings, while 89 percent of the respondents say corruption is a common occurrence in the country, corruption has clearly declined as a matter of concern among respondents. Back in 2006, 29 percent of respondents ranked corruption as one of the top concerns, making it the second most important issue, while in 2012, just 8 percent did, making it the fifth most important concern after unemployment, poverty, ecological degeneration, and inflation.
The majority of the respondents said that using official positions to collect gifts or money and help friends or relatives are the most common types of corruption (83 and 84%, respectively). Yet 28 percent of respondents said distributing gifts and money during election campaigning does not constitute corruption, despite the practice being prohibited by the new law on elections.
Respondents said the two most corrupt sectors are "land and property" and "mining." Among government institutions, findings indicate that citizens have gained more confidence in the Independent Authority Against Corruption (IAAC). The number of people who said they preferred the IAAC as the leader in fighting corruption increased from 35.8 percent in an April 2011 survey to 44 percent in November 2012. Sixty percent of respondents said they would report a corruption case if their identities were kept anonymous, while only 17 percent would do so regardless of such protection. This indicates that if the current law (which requires people who report corruption to reveal their identities) were revised, that there would likely be a substantial increase in the number of corruption cases reported.
Eighty-one percent of respondents said that corruption impacted their personal or family life in one form or another, such as their standard of living and the rising price of commodities. The survey also found that 93 percent of respondents said that they should "do something" about corruption. At the same time, the majority said they were unaware of important anti-corruption measures in place. For example, only 29 percent of respondents were aware of the IAAC's anti-corruption telephone hotline, which normally plays a major role in prompting citizens' actions. Similarly, when asked whether they would pay a bribe if approached, while many said they would not pay, or in fact they would report it (35 and 17%, respectively), there were still many (24%) who said they would pay one if they had the money. These responses have remained more or less consistent since 2006.
Based on the respondents' reported experience, it seems that fewer people are now paying bribes. Only 12 percent of the people surveyed said they paid some form of bribe in 2012, a significant decline from 2006, when it was 28 percent. However, while there are fewer bribes, the average size of the bribe has increased from MNT 136,000 ($97) in 2006 to 391,000 ($280) in 2012. Of those who paid a bribe in 2012, 56 percent said they did so to obtain the services they are already entitled to and 25 percent paid to overcome bureaucratic hurdles.
The survey did not find major variations statistically when data were segregated by gender or urban-rural categories. That said, female respondents were more inclined to choose the "I don't know" or "neutral" categories and avoided answers to strong statements or questions such as "will you report?" The overall good news is that there has been a tremendous sense of hope and optimism among respondents that the fight against corruption will succeed rather than fail. Only a small number of those surveyed (8%) responded that corruption will increase in the next three years. Some progress to prevent and combat corruption is evident and the credit should be given to the political leadership and anti-corruption institutions for their strong commitment to address the issue.
The Survey on Perceptions and Knowledge of Corruption (SPEAK) was funded by the United States Agency for International Development (USAID), as part of The Asia Foundation's Strengthening Transparency and Governance in Mongolia (STAGE) program, which aims to strengthen democratic governance by building a more transparent and accountable regulatory and legislative environment while promoting principles of checks and balances. Read more about the program.
Basanta Pokharel is The Asia Foundation's chief of party for the STAGE program in Mongolia. He can be reached at [email protected]. The views and opinions expressed here are those of the individual author and not those of The Asia Foundation.
About our blog, InAsia
InAsia
is a bi-weekly in-depth, in-country resource for readers who want to stay abreast of significant events and issues shaping Asia's development, hosted by
The Asia Foundation
. Drawing on the first-hand insight of renowned experts,
InAsia
delivers concentrated analysis on issues affecting each region of Asia, as well as Foundation-produced reports and polls.
InAsia
is posted and distributed every other Wednesday evening, Pacific Time. If you have any questions, please send an email to
[email protected]
.
Contact
For questions about
InAsia
, or for our cross-post and re-use policy, please send an email to
[email protected]
.
The Asia Foundation
465 California St., 9th Floor
San Francisco, CA 94104
Mailing Address:
PO Box 193223
San Francisco, CA 94119-3223
2022 Impact Report
Thank you for powering The Asia Foundation's mission to improve lives and expand opportunities.